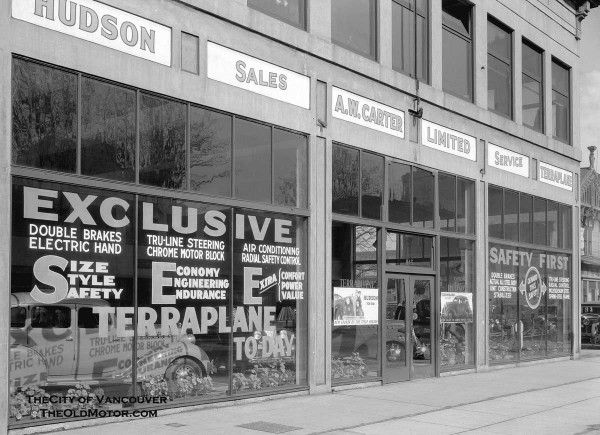 "In the air, it's aeroplaning, on the water, it's hydroplaning and on the ground, it's Terraplaning." So went one slogan about Hudson's low priced car. The Essex-Terraplane was advertised as costing $20 less than the equivalent Chevrolet and $35 less than the new Ford V-8 when it was introduced in 1932. Many credit it's sales success with saving the parent company's market share as economic conditions in the country worsened.
Spun off as a separate line in 1934 by Roy D. Chapin, Sr. after he returned to the company from the Hoover administration, Terraplane continued to provide some real bang for the buck and by the time of our feature photo today, April 6, 1936, some of the most distinctive styling of the era, too. The elaborate window display at the A.W. Carter Limited showroom at 845 Burrard Street in Vancouver touts some interesting mechanical highlights.
Double Brakes refers to a mechanical linkage to the rear brakes that operated off the pedal should the primary hydraulic system fail. The Air Conditioning system is their Automatic Draft Eliminator, and not true refrigeration. It operated in concert with a large cowl vent to provide lots of fresh air for passengers, and the Electric Hand  was their pre-selector semi-automatic transmission they offered. You'll find many more Hudson related posts on The Old Motor. These images by Stuart Thomson are courtesy of the City of Vancouver. Terraplane ad copy courtesy of Old Car Advertisements.