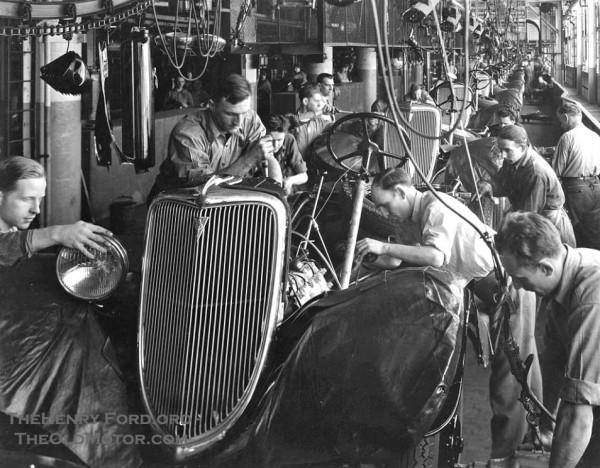 Very often, the production line photos we see here at The Old Motor seem like they were posed for the camera but these from 1934 (above), 1936 and 1937 look like the real thing to us. Despite the Great Depression, these were pretty good years for Ford sales, peaking at just under 900,000 units in 1936, so the assembly line was kept pretty busy. The numbers began to slacken in 1937 and dropped off precipitously after that until 1940, when they rebounded significantly.
We think the fine designs produced when Eugene "Bob" Gregorie was head of Ford styling had a lot to do with their success in the marketplace. Indeed, in our opinion, their mid-1930's offerings are some of the best looking American cars of the era, regardless of price, but alas, the nose treatment seen below was one Ford that wasn't destined to be in anyone's future. Many more photos and information about the River Rouge Plant can be found on The Old Motor. Friends of the flathead Ford can be found at the Early Ford V-8 Club of America. Today's photos are used courtesy of the Henry Ford.
Stylists clay for the 1939 Ford. Photo taken for Chief Ford stylist E.T. Gregorie in February, 1938.