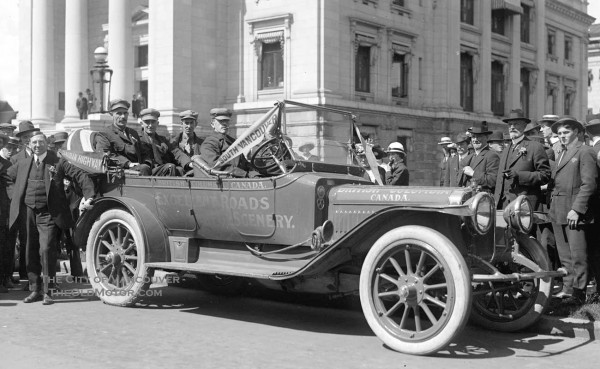 The effort to build the Trans-Canada Highway began in 1911, but the road was not officially opened in it's fully complete and paved form until 1962. It was started by a small band of forward-thinking early automobile enthusiasts who knew that their country would benefit immensely from a good highway that crossed the entire nation. At the time the plan was hatched, long sections of the only coast to coast route were little more than rough wagon tracks.
After more than 35 years of infighting and political wrangling, the construction of the Trans-Canada Highway was finally approved in 1949 by an act of Parliament. Construction started in the 1950's and continued on to the formal ribbon cutting in 1962 when the completed and fully paved highway was finally opened.
Little is known about the early highway promotion campaign using the circa 1913 Winton Six touring car seen in our top photo today with Vancouver, British Columbia Mayor Gale and other city officials gathered around it. It was lettered for and carried banners promoting an early campaign for the future Trans-Canada Highway. Perhaps our readers can find more information
Mechanically, the Winton was an interesting and somewhat unconventional car right from it's start when the first experimental model was built by in 1896. Alexander Winton thought about engine speed and power control systems differently than other designers and from early on was a firm believer in the use of compressed air for valve and carburetor actuation. Later, he also developed a self-starter that used air pressure with a distribution mechanism.
You can learn much more about this formidable six cylinder car as it was built from 1912 to 1914 in illustrations, an advertisement and an article that appeared in the October 16, 1913 of The Automobile above and below.
The Winton Company was headed in an entirely different direction from the Trans-Canada Highway, as at about the time plans for the great road were being developed, it was only thirteen years away from ending car production. At their very peak in 1916, a record 2,458 cars were built. This was company's most prosperous and successful year. They also did well during the First World War producing supplies for the military.
After the war, Winton, along with other medium and high-priced car makers who did not keep their products fresh and up to date, ran into trouble and eventually perished in the post war recession. The sad end of the marque came for the pioneering automobile maker from Cleveland, Ohio in early 1924, although the name continued proudly onward on diesel engines used in marine and railway applications. You can also find many more Winton photos and more information here on The Old Motor. Feature photo by James Skitt Matthews courtesy of the City of Vancouver.