Part II of this series will cover the first of the two versions of 16-valve Roof cylinder heads, the early Rajo 4 and 8-valve heads and the Green Engineering flathead.
Robert M. Roof manufactured what appears to be the third OHV Ford racing head to enter the marketplace, the Type A unit presented here. Roof was an accomplished mechanical engineer who previously operated the Robert Roof Machine company for over ten years in Muncie, Indiana, where he built gasoline-powered industrial engines. At the same time he was also an amateur auto racer and built his first racing car (below) with a Roof-6 engine circa 1908.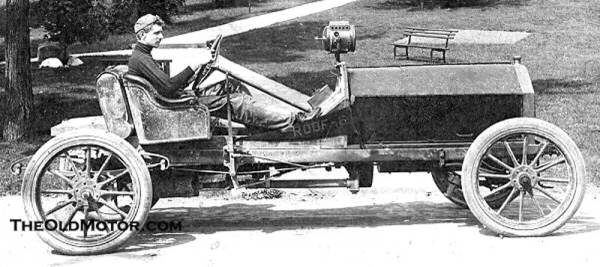 Roof sold his engine company in 1911, moved to Anderson, Indiana where he designed a series of diesel engines for the Anderson Foundry and Machine Works. After observing the increased activity involving racing the Model "T" Ford during the mid-teen's, he formed the Roof Auto Specialty Co. over the winter of 1916-17 and went to work designing and producing his new 16-valve head. It replaced the standard Ford "L" head and was actuated by pushrods which ran in the original valve guides. Roof's patent drawings below clearly show the construction of this cylinder head.
This 16-valve head was a big winner on the track in the 1917 season despite some early teething problems. The first advertisement we were able to find offering the head, (below left) was in the Motor Age of March 8, 1917. Demand for it quickly followed. This led to Roof to hand over the company to outside investors in exchange for a share of the ownership. He also assumed a new position as chief mechanical engineer and vice president. Details of the arrangement can be found in two articles center and right (below) in issues of the Motor Age from November 22, 1917, and February 14, 1918.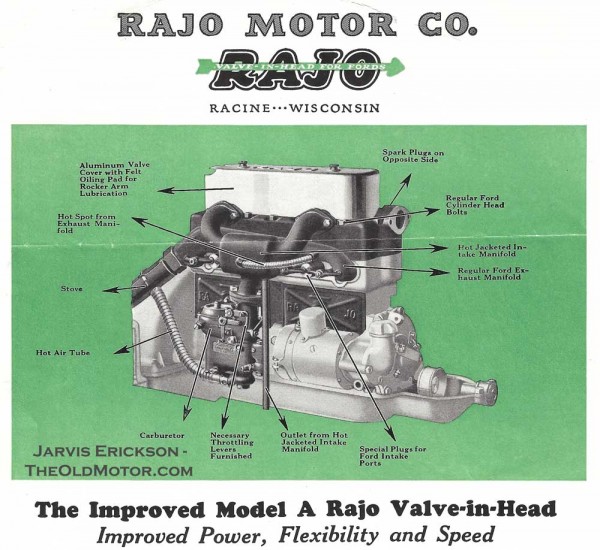 The Rajo 4-Valve "F" head with 2 intake ports on the right side of the head. The standard Ford exhaust valves in the block and exhaust manifold were used.
Born in Vienna, Austria in 1884 Joseph Jagersberger, was involved in racing in Europe before moving to America in 1903. He first entered the sport here as a driver and mechanic working with many well known teams and individuals and eventually joined the Case Racing Team in 1910. His driving career ended abruptly after a serious accident in a race at Columbia, South Carolina resulted in the amputation of his right leg five inches below the knee. He continued to build racing cars for Case after his recovery and was also involved in other projects with the Racine, Wisconsin farm implement and car building organization.
According the interesting Joe Jagersberger Story written by Kem Robertson, he left Case in 1914 to start the Rajo Manufacturing Company where he manufactured spark plugs and other automotive parts. His next project was the design and building of his first OHV cylinder head for the Model "T", the 4-valve and may have starting selling it as early as late 1918. This was an "F" head conversion that used four intake valves in the head (as seen above) and the standard four Ford exhaust valves in the block. It apparently was also available in another version using four exhaust valves in the head and the standard Ford intake valves in the block.
Jagersberger next formed the Rajo Motor Company during 1919. An announcement in the Automotive Industries on October 16, 1919 describes it. John Olle and John H. Tooman were also involved but exactly how is not known. The sum of $25,000 in capital stock was raised for the effort, so the pair may have been investors.
The Model 30 cylinder head was his first 8-valve design and, while not intended to be an all-out racing head, it was a step in that direction. It utilized both a single intake port along with four exhaust ports all on the right-hand side and sold for $78.50. It is notable in that it appears to have been the first rocker arm style 8-valve head produced for the Ford. It was quickly followed by a Rajo racing 8-valve. We will take a look at it and others introduced by Roof and Frontenac in the early 1920's in the future.
This cylinder head featured the following: fully machined combustion chambers, tungsten steel valves with 1 5/8-inch heads, valve springs provided by the William Gibson Spring Company, forged rocker arms, push rods, rocker arm shafts and adjustment screws machined of hardened, high-quality steel. The exhaust manifold used much larger passages than the Ford unit which resulted in less back pressure. This was followed by a 2 1/4-inch diameter by 54-inch long section of flexible tubing that served as the exhaust system.
An advertisement from The "Motor Age" of September 1918, listing the Green "Power-Plus", cylinder grinding, parts and racing engines.
While not an OHV head unit like the others, the Green "Power-Plus" high-compression flathead appears to have been available by early in 1918. Green Engineering was run by "Pop" Green in Dayton, Ohio and manufactured engine parts including lightweight aluminum pistons and connecting rods. The company also worked on racing engines and re-fitted cars with power plants from other makes that offered more horsepower and better performance and reliability. He later went on to produce and sell a full line of Ford racing equipment which we will look at in a future post. Earlier we looked at a Green-equipped supercharged "Super Ford Racing Car", here on The Old Motor. Part I of this series can be found here and Part III of this series here.