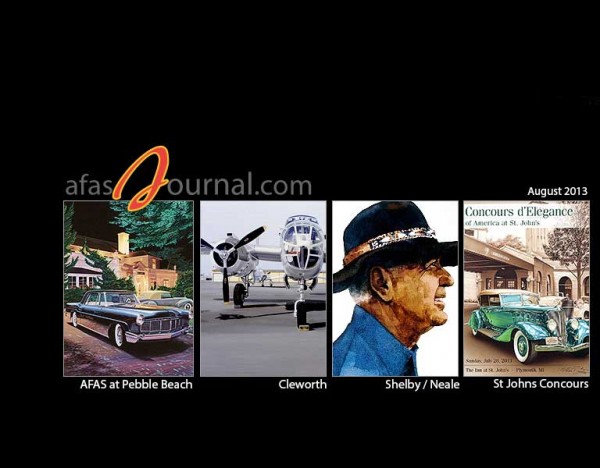 The afasJournal.com site has joined with The Old Motor to show some of their extraordinary work in the field of the automotive fine art. Above and below is a just a small sample of what you'll find when you visit afasJournal.com. Artist and publisher Jay Koka had the following to say of this effort at it's start:
"Our name is afasJournal.com and, while we are not funded by the AFAS organization, it's activities and the work of it's members are prominent in our publication. There are a number of reasons for this. First and not coincidentally, I am a member and have been for over 20 years. Second, the organization's membership represents many of the finest automotive fine artists working today. That's not to say that there are no fine artists that are not members. In fact there are many and we welcome them and look forward to presenting their work in our publication. However there is no escaping the fact that the AFAS and its members have contributed immensely to the advancement and acceptance of automotive themed art as "fine" art.
The roots of automotive-themed art are undeniably commercial in nature. The first automotive-themed painting or drawing was executed 12 minutes after the first car was built. And automotive fine artists have worked for 100 years to distance themselves from both advertising and engineering based art in an effort to present art with a message that goes beyond "here is XYZ car and isn't it lovely".
Take a few moments to visit with them at afasJournal.com where you can view the most recent August 2013 issue and also take a look back on their earlier work.