Our friend Stefan Marjoram, a photographer and film maker from England, recently released this entertaining silent slapstick-style video he produced showing a trip to France in vintage racing cars that revisited the site of the 1913 French Grand Prix at Amiens.
Enthusiasts drove from the U.K. and Europe and met there this past summer with both original racing cars and quite a few modern day specials to commemorate the famous GP races held there. Last year, the group participated in a celebration of The French Grand Prix at Dieppe that was held in 1907.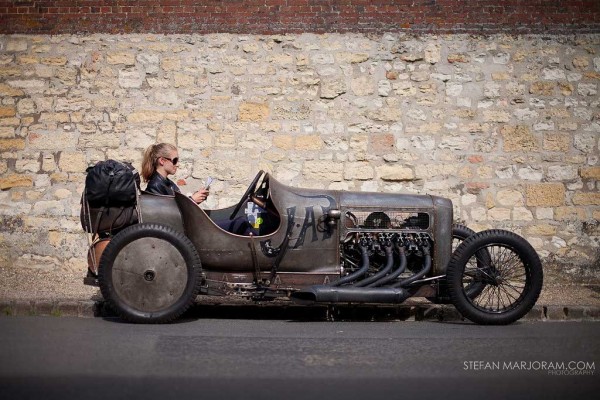 We have also set up a photo essay of Stefan's images showing many of the cars that participated in the Centenary tour. You can see a total of 215 of his images both in color and black and white on his Amiens Grand Prix Centenary Flickr page. You can also view a poster with his drawings where each car is identified and dated.
You can learn more about the 1913 French Grand Prix at Amiens that was won by Georges Boillot in his Peugeot Racing Car in an article (bottom center image below), which was found in The Horseless Age, July 16, 1913 issue. You can also take a look back on sixteen pages and many photos showcasing Stefan Marjoram's work here on The Old Motor. He is the official photographer and film maker for the very interesting Bloodhound LSR Car effort.