Famous golfer Gene Sarazen and his wife with company president Alvan Macauley, Sr. at the Packard offices in Detroit.
Big cars and sports stars go together like caviar and crackers, and it's been that way for a very long time. In his day, Gene Sarazen, a.k.a "The Squire", was as well known as Tiger Woods is today as befits a player who won all the major championships in his lifetime, the U.S. Open, PGA Championship, the Masters and the British Open. With that fame and fortune came this perk, a Dietrich-bodied Ninth Series 1932 Packard 906 Custom Twin Six convertible sedan. In 1931 Macauley brought custom coachbuilding in house but Dietrich still built a few of their V-windshield "Individual Customs" in several different body styles as we see here.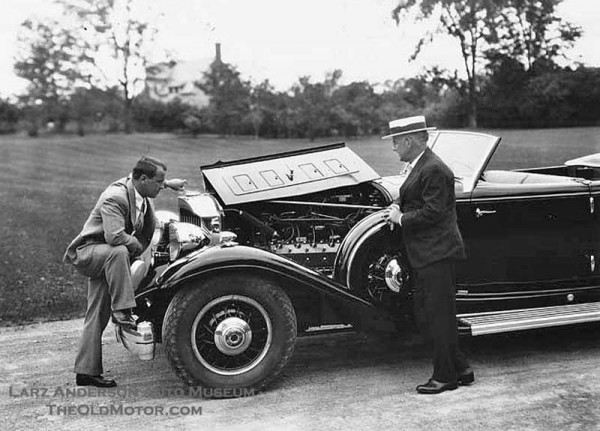 Above we see Sarazen and Macauley admiring the power plant that moved the almost 5300 pound, 147.5-inch wheelbase beauty down the road. It was the last time that the twelve cylinder cars would be designated "Twin Six", although Packard would continue to use the 445 cubic inch 160 horsepower engine for the next two years. The engine featured a Stromberg downdraft carburetor with an automatic choke and was backed up by three-speed synchromesh transmission. Another luxurious touch was four-wheel adjustable vacuum assisted brakes. You'll find many more Packard postings on The Old Motor. The Photos from the Rod Blood Collection are courtesy of the Larz Anderson Auto Museum.