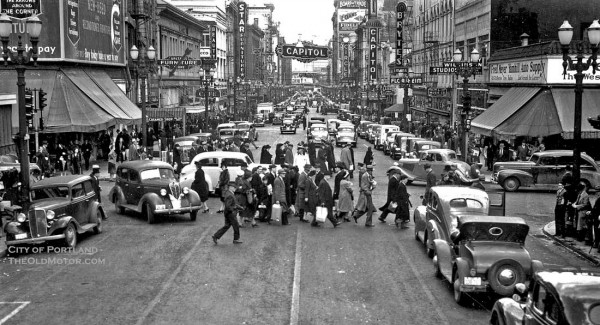 The corner of Southwest 4th Avenue and Yamhill Street shows the kind of bustling downtown that many towns can only dream of today. In the days before suburban strip malls and big box stores located on the edge of town, this is what retail commerce looked like in the U.S. Judging by the overcoats on the men and the winter fronts that are visible on some of the cars, we believe this might be a Christmas season shopping scene.
Some would consider the forest of signage to be clutter, but we really prefer the great variety of styles apparent to the giant, garish LED's and video screens of modern urban life. And the cars on the street provide an entirely co-incidental study of the rapid evolution of automotive styling that took place in the 1930's.
We would be interested in readers input on the modernized roadster seen in line on the right hand bottom of the photo. At first glance it appears to be a 1928-29 Chevrolet, but after some investigation we think it maybe another GM brand. You can also find more than 200 pages of pictures and posts of auto photos from 1921-1942  from this time period here on The Old Motor. Today's photo is courtesy of the City of Portland Archives.