Jay Hubbard demonstrates the radial engine in the world's only surviving Adams-Farwell.

In Dubuque, Iowa in June of 1883, Eugene Adams purchased an interest in the Roberts and Langworthy Iron Works and became secretary and manager two years later. Renamed the Adams Company in 1892 when his brother Herbert joined the firm, they specialized in the manufacture of machine castings. The business would eventually grow to include milling and general foundry equipment in it's offerings. Fay Oliver Farwell, a prolific inventor with thirteen patents already credited to his name for items as diverse as a camp chair, a combination vise and anvil, and a molding machine would join the enterprise in the late 1890's as the factory superintendent.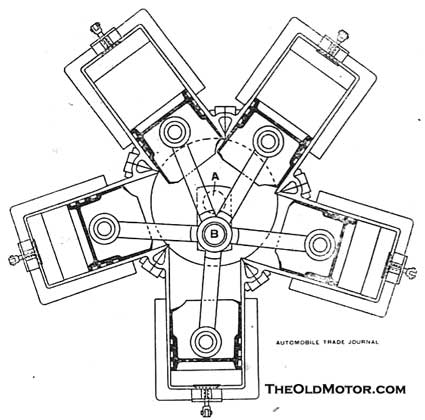 The simple and ingenious design of Farwell's powerplant can be seen in the schematic above.
Development of an automobile began in 1898 with the one-off experimental Model One, a front-engined machine with a Farwell-designed air-cooled three cylinder rotary engine installed in an express wagon. Other prototypes produced in 1899 and 1901 further refined the design. By 1904, the revolutionary Adams-Farwell was deemed ready for sale to the public. It received high praise at the 1905 Chicago Auto Show where The Chicago Chronicle declared it "one of the most attractive cars at the auto show and one which has found perhaps the maximum of purchasers."
Their 1909 Model 9 and it's engine are described above in great detail in an article from the Cycle and Automobile Trade Journal of September, 1908. Adams-Farwell continued to produce automobiles until 1913 after which the Adams brothers saw a brighter future for the company in the gear-cutting business. Fay Farwell stayed with them until the early 1920's and then moved on to other interests. You'll find almost 300 pages of items from the earliest days of motoring on The Old Motor. The remarkable 1906 Adams-Farwell featured in our video is on display at The National Automobile Museum in Reno, Nevada.