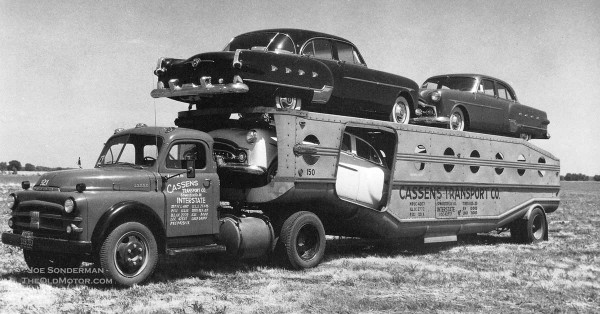 While Ford, GM and Chrysler each produced a line of trucks they could use to deliver their cars, the independents did not. Our photo today shows a clean looking Cassens Auto Transport 1951 or '52 Dodge tractor hauling four 1952 Packards on a stylish MHS "Clipper" trailer. These big Dodges used gasoline burning flathead sixes of 331, 377 and 413 cubic inches and often were equipped with twin carburetors and dual exhausts. Horsepower ranged from 137  in the 331 up to 171 in the 413 and all produced more than an adequate amount of torque.
George Cassens was a pioneer in the field of car transport by truck. From the 'teens through the thirties' he and his sons Arnold and Albert operated agencies selling Reo, Hudson, Essex, Dodge and Plymouth. While it was the custom back then for cars to be delivered by rail, Cassens was dissatisfied with that arrangement and had his sons begin stiff hitching his new Hudsons home from the factory in the twenties.
Soon after securing a Dodge-Plymouth franchise in 1933, he ordered his first truck and two car trailer to bring home the merchandise from Detroit, a distance of over 500 miles. Through the ups and downs of the economy, the Great Depression and the Second World War, Cassens Auto Transport thrived, eventually becoming a primary contractor for Dodge in the Midwest and a major national carrier. The photo is courtesy of Joe Sonderman and you will find many Route 66 related articles with photos from the Joe Sonderman Collection on The Old Motor. Also, take a moment to check out Joe's new book, Route 66 in Texas.
And take a moment to check out Joe's new book,
Route 66 in Texas.
– See more at: http://theoldmotor.com/?s=%22joe+sonderman%22#sthash.3F7gPW2o.dpuf