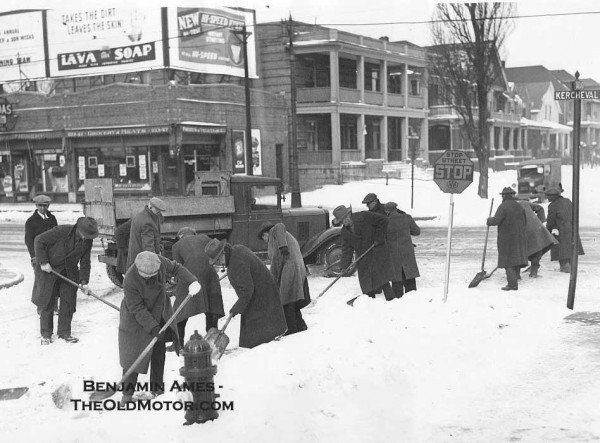 Snow on the hilltops not very far north of us are a reminder that it won't be very long until we are deep into the long, cold winter season. While we've got our fire wood in and snow tires mounted, our photo today got us thinking about how much easier we have it today than back when it was shot and how we take modern snow removal equipment for granted. Big highway plows, sanders and snow blowers make quick business of all but the most severe storms, but these fellows are doing it the old fashioned way.
Our local fire department still digs fire hydrants out by hand, but these Kercheval Street corner workers appear to be doing quite a bit more than that. Judging by their garb and the estimated date of this image, we suspect that they were not full time city employees, but more than likely day laborers happy to have an opportunity to earn a few dollars during the Great Depression.
The small dump truck appears to be a 1929 Chevrolet and a Model A Ford mail truck is parked up the street. You will find many more interesting photos from the Benjamin Ames Collection posted previously here on The Old Motor. One in particular is a reminder for another pre-winter ritual.