This Micheline prototype ​ran from Paris to Deauville averaging 107 k.p.h. (66.8 m.p.h.) on September 10, 1931 using Hispano-Suiza power
In the U.S., they were called railcars, railbuses or doodlebugs. Often created in a railroad's own shops by ingenious crews who combined a car or truck driveline with an existing passenger or freight car, they provided economical service to less populated areas. But the purpose built units seen in our photos today raised the bar to a whole new level. While they are quite similar in appearance to some of their American counterparts, their use of rubber tires rather than conventional steel railroad wheels and superior speed mark significant differences.
The pneumatic railroad tire developed by Michelin offered a number of advantages over the traditional wheel type in this relatively lightweight application. Passengers experienced a smoother, quieter ride. Better traction resulted in faster acceleration, shorter braking distances and improved climbing ability on grades. Greatly reduced rail wear likewise resulted in reduced track maintenance costs. Downside factors included higher fuel consumption caused by increased drag and the possibility of flats.
Their increasing size and passenger capacity over the years attest to the merit of the initial concept. The Type 11, produced between 1932 and 1939, could propel 24 passengers at speeds up to 90 k.p.h. (56 m.p.h). Two Type 20's were built in 1934. Orders for thirteen Type 21's and thirty-seven Type 22's followed. In service between 1936 and 1952, the big Type 23's seated 96 and used a 400 horsepower Panhard flat opposed 12.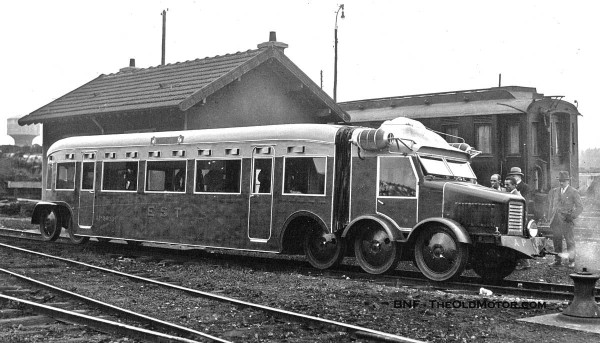 The long term success of the Michelines can be said to have led directly to the use of rubber tires on many modern metro systems around the world including Montreal, Quebec, Canada, Tokyo, Kobe and Yokohama in Japan, Paris, Lyon and Marseilles in France and Mexico City. You'll find more than fifty pages of other unusual subjects along with several "train cars" you can view here including a Pierce-Arrow, a 1933 Chrysler and a 1955 Buick on The Old Motor.