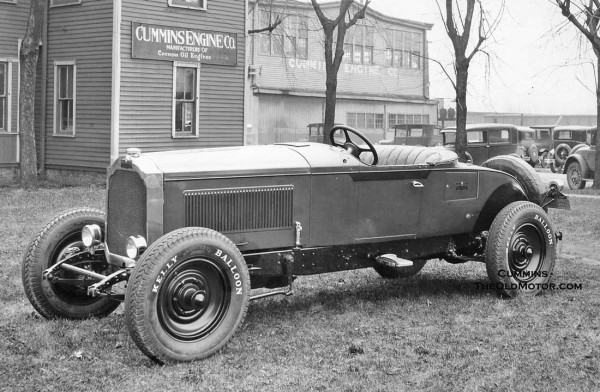 Clessie Cummins first met W.G. Irwin when the twenty-two year old was a member of the pit crew for Ray Harroun's race-winning 1911 Indianapolis 500 entry and Irwin was one of his sponsors. It was the beginning of a longstanding relationship that would eventually provide him with the time and money to develop his engines. But it almost came to an end soon after he made his big breakthrough with his Model "U" engine in 1928.
The combination of enclosed valve gear, full pressure lubrication and perfection of his disc type fuel injection timer on the Model "U" added up to a power-plant that could deliver good power and excellent fuel economy in a reliable package. By 1929 however, the bottoms of even Irwin's deep pockets were beginning to show. He had announced that as of January 1, 1930, the well would dry up and Cummins Engine Company would be no more.
Video courtesy of Cummins.com.
In an inspired move to save his business, Cummins and his brother Don installed a"U" Model marine engine in a 1925 Packard less than a week before the deadline and drove it from Indianapolis to New York City arriving just in time for the New York Automobile Show. The favorable publicity generated by this almost 800 mile run breathed new life into his efforts.
After a barnstorming tour through the Northeast and Mid-West, he returned to Columbus, Indiana and transplanted that same engine into the Packard roadster seen in our top photo and the video. A 1060 mile run to Daytona Beach on $2.00 worth of fuel and an 80 mile-per-hour record run there proved to skeptics that the concept of a diesel powered passenger car was indeed viable.
Following his success with the Packards, Cummins next venture was a "real" race car. He sent another "U" Model engine to the Duesenberg shops and had them design a car around it. It became the first diesel powered car to enter and complete the Indianapolis 500 in 1931 and, although it was the slowest car in the field, driver Dave Evans still finished 13th overall going the distance without any pit stops averaging better than 16 miles-per-gallon and 86 miles-per-hour.
L to R: Model U engine in the Indianapolis car – Ready for the tour – Automobile Trade Journal, May of 1931 article that proceeded the 500.
A whirlwind tour on the roads of Europe with Irwin in 1932 in the same car that included runs on the high banks of Brooklands demonstrated the power and durability of the Cummins engine, but generated less-than-hoped-for interest in it, so Cummins concentrated most of his efforts on trucks and buses when they returned home. And the rest, as they say, is history. You can find out more about Clessie Cummins  here on The Old Motor and Cummins powered Indy race cars here.