The hard times of the Great Depression gave rise to a surprising number of innovative automobile designs penned by original thinkers, not the least of which was William Bushnell "Bill" Stout. By applying his thorough knowledge of aircraft construction techniques to his Scarabs, he created a series of vehicles that broke entirely new ground and were years ahead of their time.
Evidence of Stout's vision became apparent very early in his life. It's said that he carved one of the first airplane models out of wood at the age of 18 in 1898 and is credited with inventing the rubber band-powered model airplane. He first entered the automotive field with the Imp cycle car in 1913 which, although a successful design, reached the market at the end cycle car craze in the U.S.
After working for years in the aircraft industry that included a successful collaboration with Ford, a stint as chief engineer for Packard's aircraft division and such significant achievements as the designing the first monoplane with an entirely internally braced wing, Stout re-entered the field of automobile design the early 1930's. Completed in 1932, Scarab Number One was the result.
It's design echoed his background in aircraft. An aluminum tube space frame kept weight to a minimum without sacrificing strength. Four wheel independent suspension was provided by high mounted aircraft-style coil spring "oleos" that are much like today's ubiquitous MacPherson struts, one at each wheel with A-arms pivoted at the chassis center line in front and  swing axles at the rear. Although no longer than contemporary conventional cars, it's interior space was much greater, predating the modern minivan by fifty years.
Stout decried the use of the term "streamlined" when applied to his car stating that "a land vehicle cannot be streamlined." Rather, he said that aerodynamic principles were applied to the shape of Scarab solely to provide stability in crosswinds. By all accounts, it worked.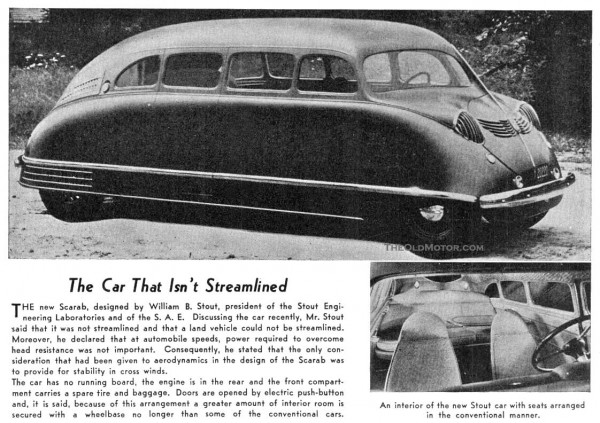 The Scarab II in the "Automotive Trade Journal" of November, 1935
Unveiled in 1935, the Scarab II, seen above, was  a further development of Stout's forward thinking design. Although records are sketchy, sources say that nine were built between 1936 and 1939 with an eye toward eventual production. Stout made six coast-to-coast trips in his Scarab II in 1935 to promote the car during his tenure as president of the Society of Automotive Engineers and eventually racked up 89,000 miles it.
There would be a Stout Scarab III produced in fiberglass in 1945 by Owens-Corning plastics engineers R. Games Slayter and Walter Krause in conjunction with Stout. Boasting such innovations as a hand laid fiberglass floor/chassis and the world's first wrap around windshield done in safety glass, it would serve as the Stout family car until 1951. Previous posts covering the Stout can be found here on The Old Motor, including one showing some rare film footage. You can also see some other aerodynamic experimentals from the same era here.