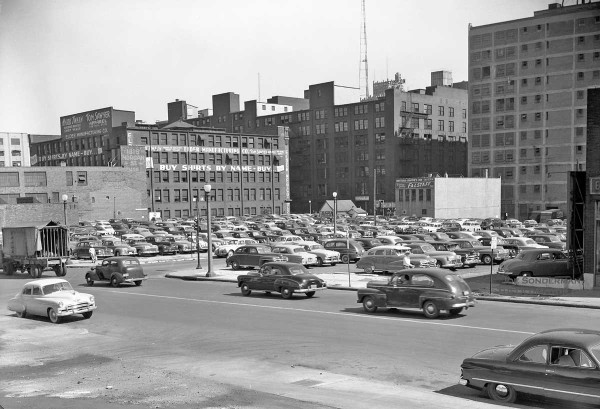 Parking lots on 14th Street in St. Louis, Missouri
Just as car styling changed dramatically through the 1930's, so the evolution of design in the 1940's is evident in today's photo. In 1949, the fresh, new look of the first peace time models offered by Ford and General Motors made previous year's rehashes of the pre-war stuff look old fashioned. At the curb, the Bob Bourke and Holden Koto-styled Ford coupe and that new 1950 Chevy right behind it illustrate the point. Most of the rest are beginning to show their age in comparison.
We also spotted a car that defied the new paradigm, a little Crosley, in the middle of the top photo and the center thumbnail. Perhaps some of you can find one or two that you owned when they were newer and we were all a lot younger. Our photo is courtesy of Joe Sonderman. You'll find many Route 66 related articles with photos from the Joe Sonderman Collection on The Old Motor. Also, take a moment to check out Joe's new book, Route 66 in Texas.