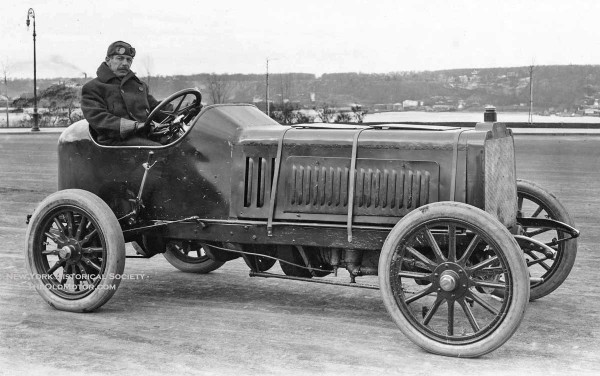 This is a very rare image showing a Darracq racing car built by the well known early French automaker. The photo was taken in the New York City area by the commercial photography firm of George P. Hall & Son that operated in Manhattan from 1886 through 1914. This car shares the same general appearance of the three 1904 British Darracq cars which were slated to run in the 1904 Gordon Bennett Cup Race. Both driver Victor Hemery and team director A. Rawlinson were unsuccessful at qualifying for the race due to lack of sufficient preparation. That race was run on June 17, 1904.
Studying this photo that appears to have been taken in the fall leaves us wondering if this is one of the 1904 Gordon Bennett cars. Could it have been the one of the cars used in the attempt to qualify for 1904 Vanderbilt Cup Race that October that also failed?
A search for photos or illustrations of the 1904 Darracq racing car chassis to share with you were unsuccessful. However, images of both sides of the engine that ran in the 1905 Vanderbilt Cup Race were found in the November 8, 1905 issue of Motor. The full details of the powerplant can be viewed just below, showing the advanced overhead valve arrangement and the make and break ignition system.
Darracq had a solid presence in America at that time with a branch in New York City called The American Darracq Automobile Co. A photo of a standard 1904 15-20 HP model can be found in an advertisement in the center below that tells of a 1053 mile non-stop run. In that event, F.A. La Roche and A.J. Picard drove the New York to Boston route four times in less that three days which at the time major achievement.
Only one year later the tide had turned for Darracq and Hemery was able win the 1905 running of the Vanderbilt Cup Race. What has been reported to be the 1905 race-winning car can be seen below, with Ben Kerscher behind the wheel at the 1909 Ormond Beach Races. Barney Oldfield owned this car for quite some time and Kerscher ran it for Oldfield during barn-storming events held between 1909 and 1910. Our top photo today was used courtesy of the New-York Historical Society, Bottom photo from the Peter Helck Collection courtesy of Racemaker Press. You can learn more about the Darracq here on The Old Motor.