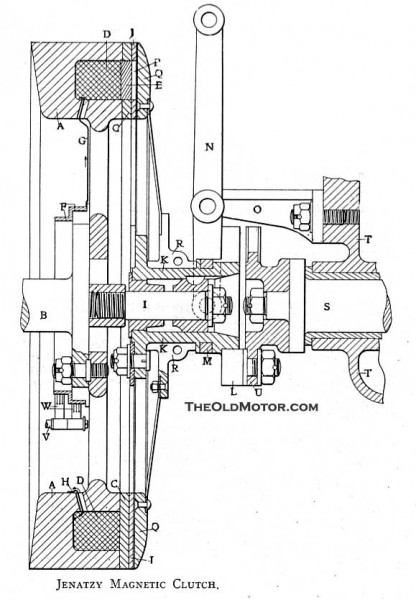 In our post on the Pipe car recently, we made note of the Jenatzy electric clutch being used on the car. Fortunately, full details of this unique coupling device were found and we can all now marvel at the details of this unit that was made over 100 years ago. The complicated result yielded the following benefits; any desired degree of clutch slip was possible, the car could get underway gradually without any clutch grabbing, very little effort was needed to operate the pedal, and finally shifting was easier and quicker because of the very small amount of rotating weight of the lightweight clutch plate assembly. All of these benefits were welcome in a time when many clutches where quite primitive and difficult to operate.  
If you are of a technical bent, read the amazing details just above where you can also learn about the early battery and dynamo system that operated the igniters and carriage lamps. In reading it, we did notice one detail that was omitted; what to do if the system failed. Unless we are missing something, the downside was that it appears the clutch could not stay engaged, rendering the car unusable until the system was repaired.
Camille Jenatzy (the Red Devil) was often referred to as M. Jenatzy, as he is in the article covering the clutch. The Horseless Age, June 22, 1904, article covering the Gordon Bennett Race in Germany, informs you of what a race was like back in the Mercedes driver's time in the racing game. You can also view our earlier article on the Pipe that utilized this clutch.