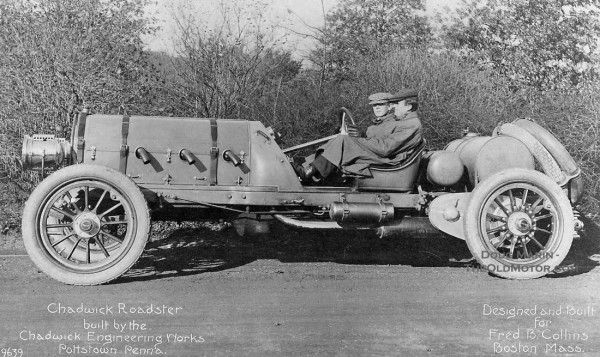 Fred B. Collins, the owner of this spectacular Chadwick, could afford most anything on wheels in the 'teens as he was a partner in the successful Collins & Fairbanks Co. That outfit sold fine imported silk top hats, designed and manufactured their own line of hats and also sold furs at 383 Washington St. in Boston, Massachusetts. He was on the Who's Who list in the city, was a member of the Chamber of Commerce and belonged to the prestigious Boston Yacht Club.
Collins may have custom-ordered his Model 19 Great Chadwick Six Speed Car to use just for his trips to the Club. The Boston to Marblehead journey is only about 18 miles up the coast from Bean Town, but at the time the trip probably took an hour or more. And oh, what a car to roll into the Club with while the butterfly valves on the stub exhaust pipes were wide open, spitting flames and signaling that he had arrived. Note some of the other interesting details of the car including the Rushmore headlamps, outside exhaust, belly pans, chain cases and the oil tank installed in front of the approximately thirty gallon gasoline tank.
The top photo is courtesy of Doug Marin whose very own Chadwick Model 16 you can see and hear, after being readied for testing last spring following a long restoration. You can also watch as a friend's Chadwick Model 19 engine is being test run. Full specifications, photos and period press coverage of the impressive power plant can be found here along with other factory photos showing the Model 19 touring car and details of the engine here.
L to R: Chadwick specifications in the December, 1914 issues of "Motor" and "The Automobile" – The Chadwick demonstrating an electric brake, May 21, 1914. 
Lee Chadwick left the company in 1911 following a disagreement with his backers over his continued changes and engineering updates to the car in his pursuit of perfection. Before his departure though, he was able to enjoy a major racing win in the hard fought battle in the 1910 running of the Fairmont Park Race at Philadelphia. The clever engineer is also credited with building what may have been one of the first superchargers to be installed on a car in 1909. By late in 1915, the story of the legendary automobile was about to come to an end when the company entered into bankruptcy. After that, only a few more cars were built before 1916. This final year for the automaker concluded a relatively brief 10 year run.