Updated: This interesting image was taken in front of J.W. Seery's Garage located in Topeka, Kansas. The Hupmobile Model 20 roadster parked next to the men is a small economy car produced between 1909 to '12 by the Hupp Motor Car Company in Detroit, Michigan. The photo courtesy of the Kansas Historical Society has been added to an earlier post dated January 4, 2013 (below) that covers many of the details of these attractive little cars.
Update: Read Ace Cenek's comment to lean more about H.W. Seery's Garage and Seery & Morton.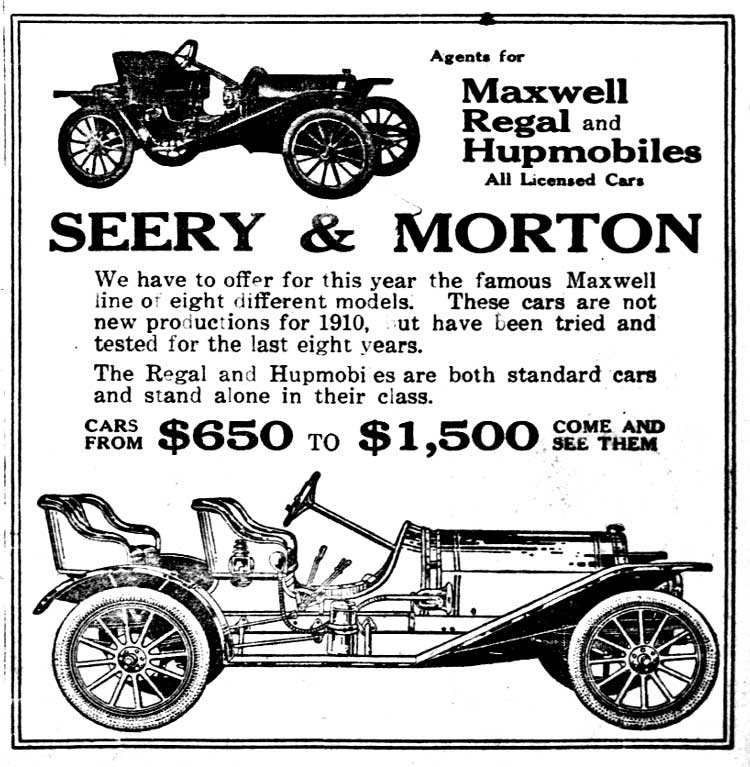 Seery & Morton The "Topeka-State-Journal" January 29, 1910 Page five.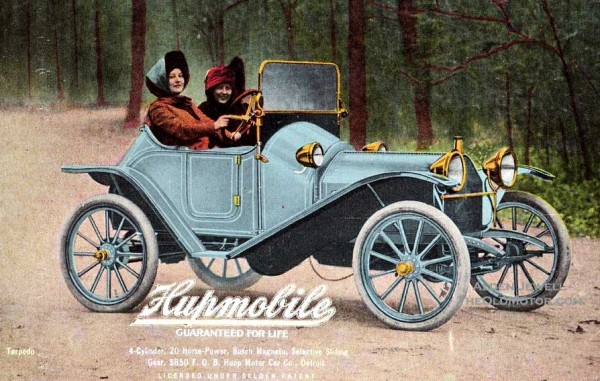 In 1908, after having worked at Oldsmobile, Regal and Ford, Robert Craig Hupp and his brother Louis entered the light car market with their own Model 20. The well designed new machine was a success as it was constructed from high quality materials with first class workmanship. A choice of four different body styles were offered beginning in 1911 when in addition to the roadster a "Torpedo," (above) a touring car and coupe were added to the line-up. The Model 20 proved to be quite popular during its 1909 to 1912 production run.
Colored postcard images showing the Torpedo, a 4-Passenger Touring Car and the Coupe – Center an ad from "The Motor" October, 1909. 
Photo from "The Motor", March, 1910, during a Detroit to New York Run.
In an effort to overcome the public's prejudice against small cars, a Hupp 20 was run in a round-the-world promotional tour starting on November 10, 1910 and returning to Detroit on January 24, 1912. By the time it was done, the little car had visited twenty-six countries and traveled over 48,000 miles. It has survived in running condition at the Crawford Auto Aviation Collection.
You'll find a brief history of the make on the Hupmobile Club's site and more Hupp related posts on The Old Motor. Colored postcard images are courtesy of Alden Jewell.