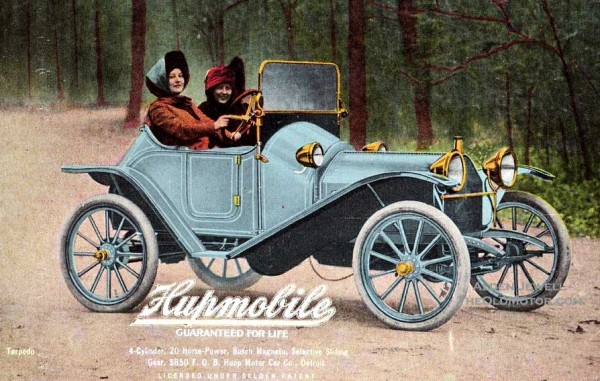 In 1908, after having worked at Oldsmobile, Regal and Ford, Robert Craig Hupp and his brother Louis dove head first into the burgeoning light car market with their Model 20. An emphasis was placed on both the use of superior materials and exceptional quality in order to win over potential customers. A choice of four different body styles was offered after 1911 when a Torpedo, Touring and Coupe were added to the Light Runabout. The Model 20 proved to be very popular during the diminutive car's 1909 to 1912 production run.
Colored postcard images showing the Torpedo, a 4-Passenger Touring Car and the Coupe – Center; A Hupp ad from "The Motor" of October, 1909

 
In these early years, it was Hupp's mission to prove that his light car could be every bit as stylish and high quality as larger, more expensive machines, touting such equipment as a Bosch magneto and sliding gear transmission that were not available in some competitors. The ad above even floats the idea of the Model 20 as a second car for the driver who already owned a large one and audaciously suggests that driving it regularly would soon make it the buyer's first choice! Colored postcard images from 1911 courtesy of Alden Jewell.
In a further effort to overcome the public's prejudice against small cars, a Hupp 20 made history in a round-the-world promotional tour starting on November 10, 1910 and returning to Detroit on January 24, 1912. By the time it was done, the little world traveler had visited 26 countries and traversed over 48,000 miles. It has survived in running condition at the Crawford Auto Aviation Collection and is the third one from the left in the sixth row of photos in the link. You'll find a brief history of the make on the Hupmobile Club's site and more Hupp related posts on The Old Motor.