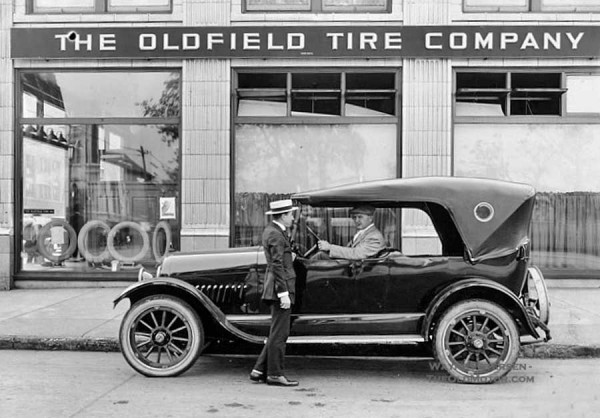 The names of Ralph DePalma, Tommy Milton, Eddie Rickenbacker, Jimmie Murphy, and Dario Resta are all writ large in the earliest days of motor racing, but none had quite the same flair for self promotion as Barney Oldfield. Whether in organized competition or barnstorming across the country in special events that he and promoters arranged, Barney gained a level of name recognition that few drivers have equaled since. So it made perfect sense that he would lend his name to a product that drivers of the day would easily identify with his well known achievements when he finally retired from racing.
"Auto Trade Journal" June, 1919 – "Motor Age", March 1919 – Auto Trade Journal, 1921 tells of racing wins
In 1919, he joined forces with Firestone and formed the Oldfield Tire Company after having used the company's tires for years. More than just a simple celebrity endorsement of a product, he implied that the customer who bought an Oldfield tire would benefit directly from his many years of experience on both the road and track. In an interview published in the March, 1919 issue of the Automobile Journal, he's quoted as saying, "The Oldfield tire is my idea of what a tire ought to be. It has built into it all that I've learned in more than half a million miles of racing and touring." The same article states that the company was producing 2500 tires a day at the time.
The supreme confidence he expressed to potential retailers in the promotional material you can read in this post evidently wasn't all talk. When Gaston Chevrolet won the 1920 running of the Indianapolis 500 on Oldfield tires without a single tire change, he didn't hesitate to exploit that remarkable performance to it's fullest as you can see in our lower photo. And while Oldfield drove a wide variety of cars during his long and illustrious career, we're not exactly sure what he's piloting in our top photo and invite you to give us your best guess about it's identity. Our top photo is courtesy of Wayne Petersen great-great nephew of Barney Oldfield.