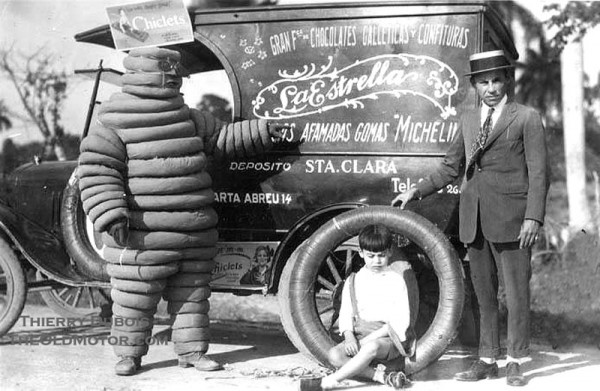 Surely one of the most recognized company mascots in the world is Mr. Bibendum, better known as the Michelin Man. Equally recognizable, but in an entirely unrelated field, is the Chiclets brand of chewing gum. In our top photo, Mr. B can be seen pointing directly to "Afamadas Gomas Michelin" on the side of this confectioner's Model "T" delivery van which translates to "Famous Michelin Gum". This seems to imply that the famous tire maker licensed the name for a brand of chewing gum.
Chiclets have been around even longer than Michelin tires, dating back to the 1870's when Thomas Adams began experimenting with chicle he and General Antonio de Santa Anna imported from Mexico. The story goes that one day, after Adams repeated attempts to produce rubber products including tires from it failed, he popped a small piece into his mouth, found the peppermint flavor quite pleasing and the Adams New York Gum Company was born.
Had Adam's research turned out differently, we might very well be riding around on his tires and chewing Michelin gum today. You can find many more photos and information about Michelin tires and Mr. Bibendum here on The Old Motor. The top photo is courtesy of Thierry Dubois and the bottom photo is courtesy of Marc Hendrix.