To many of you that may be new here to The Old Motor and the many early automobiles that are featured here, this video puts into perspective some of the care and feeding that an early car requires. Follow along as we watch a 1912 Cadillac, the first American production car with an electric starter, being prepared for a bit of motoring pleasure in Australia. You can also learn more about "Boss Kettering's" big achievement, the electric starter here on The Old Motor. *Updated* Below.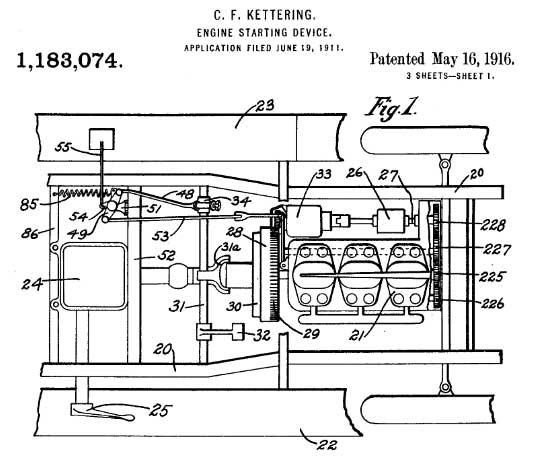 *Update* The drawings for Charles F. Kettering's first patent of his starting system have been found and can be seen here. This system is shown on a six-cylinder engine and included with it is a compression-release. This system utilized the exhaust camshaft in the same way that earlier systems did, but in this application it was controlled by the starting pedal instead of manually. The complete description of how it works can be found here.
A drawing for Charles F. Kettering's second patent filed on March 5, 1915. It is seen below on a four-cylinder Cadillac. More drawings and a description of how it operates can be found here.