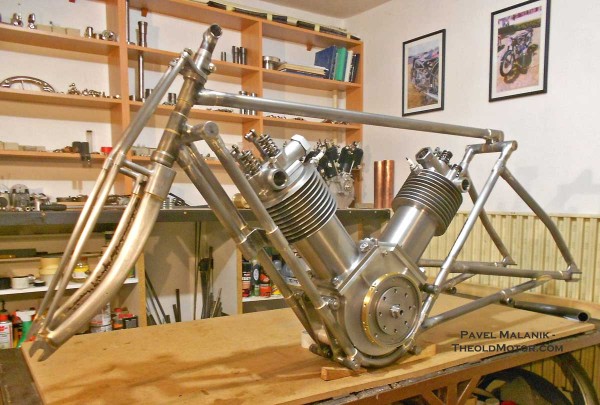 Master vintage motorcycle fabricator Pavel Malanik has been hard at work since we last visited with him. In the last post the carburetor he built for this project was featured. To bring you up to speed if you are new to this series, he is constructing a replica of the famous 1909 North London Garage record-holding motorcycle. He is building the complete machine in his shop, including the huge 165.62 c.i. (2714 c.c.) v-twin engine. This installment covers the machining of some of the many pieces for the frame, much of which was done in a milling machine and an engine lathe.
This type of frame is built with what is referred to as lugged steel frame construction. The fittings that slip over the frame tubing and later get brazed on are referred to as lugs. This form of construction has been used for well over a hundred years on motorcycle and bicycle frames and when performed correctly is extremely strong. Some of these frame lugs were made from two pieces of tubing that were welded together and then the weld was dressed down. Follow along below as we describe the complete assembly process. You can also view the entire series here from the beginning.
L to R above: All of the many pieces of tubing and machined alloy steel cut and ready for other operations and welding – The lower triple tree being machined for the front fork that will be covered in the next installment – All of the lugs and other frame pieces completed and ready for assembly.
L to R above: The front down tube brace being machined – All of the pieces of the head stock after being braced together – Trial assembly of the frame tubes being checked on a full-sized drawing. More can be learned here about lugged steel frame construction here and the finer points used in the brazing and silver brazing frames here.
L to R above: The frame lugs, the engine and the engine mounting plates assembled in the frame for fitting and tacking the lugs in place before finish brazing – Pavel using a torch for heating while applying the brazing rod and flux – The frame on a jig with all brazing completed. If you would like to learn more about the brazing process, the best video to be found showing the correct methods is Brazing & Braze Welding that is part of an English training series.