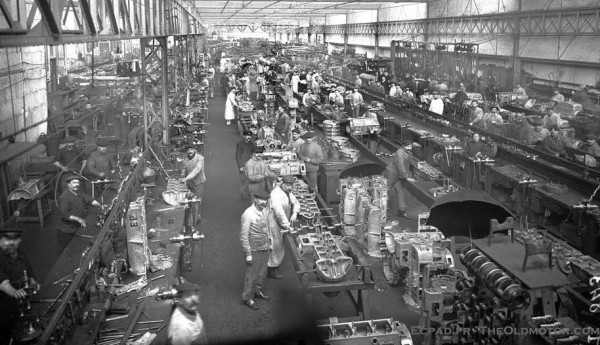 Views of automobile factories and assembly lines are of interest as they always show a part of the story behind the vehicle that was manufactured there. This pair of images was taken some thirty years apart and show two different ends of the business. Above we see the assembly line and workshop used for Panhard et Levassor engines in Paris, France during February of 1917.
Below is a coachbuilding shop at an unknown establishment that perhaps was located in England. The considerable number of English wheels used for panel-forming and the wooden bucks necessary for checking panel shape in the shop are both of interest. The metal-shaping machines were made by George Kendrick LTD in Birmingham. We have a feeling that the body shells being worked on may be for the Bristol 401 or 403. You can learn the interesting history of Bristol Cars Limited here.
We ask our readers to add anything they can that will tell us more about the photos. The top photo came to us via Isabelle Bracquemond and is courtesy of ecpad. The bottom photo is via Voccor Tools.