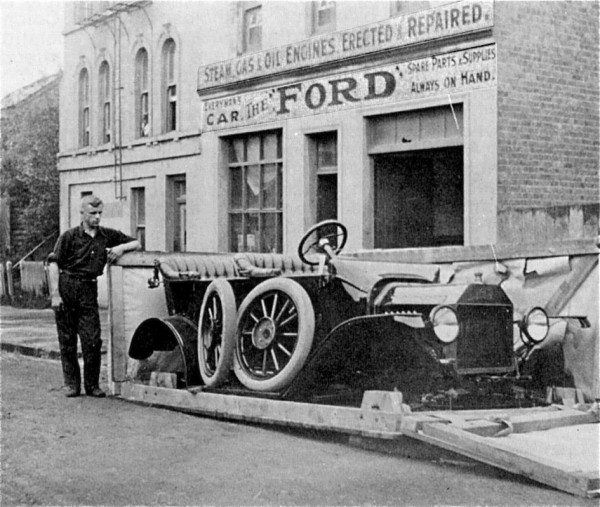 As shown previously on The Old Motor, the automobile has been shipped all over the world since shortly after it was first produced. This photo taken in New Zealand circa 1914 or 1915, shows a Model "T" Ford of Canadian manufacture, after shipment to a Ford Dealer. Note the interesting signage announcing the stationary engines also offered. Photo posted by Erich Bruckner on the MTFCA Forum. 
Below is a contribution by Dane Hawley that was originally published in The Barrier Mine newspaper, of Broken Hill, N.S.W. Australia on February, 16th 1916, is a complete description of how the shipping was handled at the time:
"The cars arrived at the garage packed just as they left the Canadian factory of the Ford Company. Popular opinion is that motor-cars from overseas arrive in Australia in parts, and that these parts have to be unpacked and assembled before the car is ready for use. Instead of this being the case, however, there is very little assembling to be done. Each car body (with engine, axles, steering gear, and lighting plant and fittings, all complete and in place), is boxed up in a packing case of very strong timber".
"The Wheels are detached and fastened to the inside of the case, and the hood is strapped over the engine. The only other parts of any importance that are not in their proper places are the glass wind-screens and the steering wheel, and these are strapped to the upholstered seats. When the top, ends and sides of the packing case are removed the body is packed up and the wheels, etc., put into place in a very short time. All of these cars have come for fulfillment of orders received".