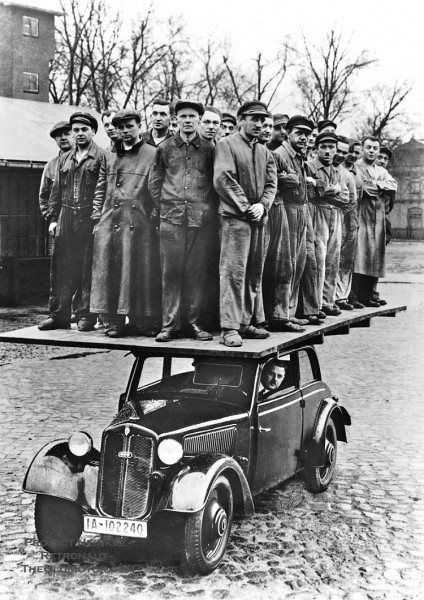 This photo was part of a very clever advertising campaign to impress on the viewer just how strong the 1935 DKW was. This type of campaign was used at least twenty-five years earlier by the Stevens-Duryea Company to show the strength of their unit power plant. In both cases the only thing that was proven was that the object could hold up the weight placed on top of it without deforming or crumbling.
It the photo above, it is estimated that the twenty-five to thirty men and the platform weighed in at about forty-five hundred pounds. To present a pleasing appearance for the photo, it is suspected that the little vehicle must have been supported from below or blocked up. Without it the suspension would have been compressed and the tires would have been somewhat flattened on the bottom. In the image, the DKW appears to be at its standard ride height and the tires show no sign of distress.
The company began operating in 1918, building tiny add-on engines used for powering bicycles in the hard times following World War I. This then led to entering into motorcycle manufacturing and next the building of small cars. The company merged with Audi, Horch and Wanderer in 1932 during the Great Depression, forming the Auto Union. This little economy car built by the German organization was powered by a small 584 cc two-stroke twin cylinder engine.
The video below courtesy of seat850c shows many of the high-quality automobiles built by Auto Union after the merger and shows the precision manufacturing procedures used. The photo was found via Retronaut and it originates from Project Heinkel where you can learn much more about the DKW automobile.