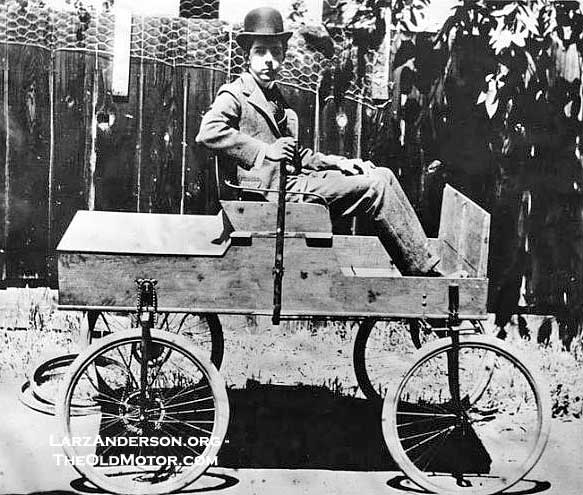 Earl C. Anthony is perhaps best known as the Packard distributor for the state California from 1915 to 1958. Our top photo shows him at the dawn of his interest in the motorcar. It was a thoroughly respectable, if primitive, effort for one so young and inexperienced. Built in 1897 when he was just seventeen years old, sources say that he fabricated his own batteries and half horsepower electric motor to power it.
After studying engineering at the University of California at Berkeley, Anthony returned to southern California and opened one of the first car dealerships in Los Angeles. He became a distributor for eighteen brands and by 1905 had secured the Packard franchise. That same year, he was one of the founders of the Los Angeles Motorcar Dealer's Association and in 1907 was a principle organizer of first Los Angeles Automobile Show.
A long trail of innovations would follow. Anthony and a group of fellow entrepreneurs opened L.A.'s first full service gas station in 1913 after becoming frustrated by the difficulties his customers experienced obtaining fuel for their cars. He was first in the country to use neon signs to advertise his business and founded radio stations KFI and KECA, the former eventually becoming one of the first "clear channel" powerhouse operations in the United States.
His "Palace of Packards" located at 901 Van Ness Avenue in San Francisco
In subsequent years, he would expand his operations throughout the state including the spectacular location in San Francisco seen above. At one point, his dealerships sold one out of every seven Packards purchased in California. By the time our last photo was taken, Earl C. Anthony had been doing business for thirty years. He had become an institution in the car culture of the state and provided the sharp Packard 120 to lead the Flag Day parade that opened the Los Angeles baseball season in 1935. Photos courtesy of the Larz Anderson Museum, the Detroit Public Library and UC Berkeley.