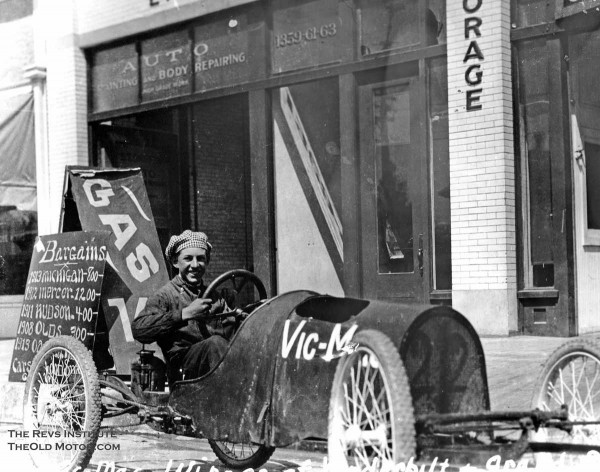 *Update* At the bottom of the post.
The Baby Vanderbilt Cup events were staged as a supporting series for some of the Vanderbilt Cup Races, which were held in California between the years of 1914 and 1916. The Junior Racing Association of America was another series that also sanctioned its own races and was intended as way of training young drivers and "developing its members into competent racing pilots". The Vic-Mac racing car was a participant in this type racing and a caption on the bottom of the photo appears to tell of it winning a Vanderbilt Cup event.

Behind Harry Hartz posing in his car is the Vic-Mac Garage Co. facility that was located in Los Angeles. The garage was formed in 1913 and the incorporation listing above was found in the September 11, 1913 Motor World. The garage was in the auto painting and repair business and also sold gasoline and used cars. The newest car listed on the signboard is a 1913 Michigan for eight hundred dollars and below that is a 1912 Mercer offered at about half of its original cost at twelve hundred dollars.
Unfortunately after an extensive search, nothing more can be found about Vic-Mac or any information about its involvement in the Baby Vanderbilt Cup races. You can learn more about both the Junior Racing Association of America and the Baby Vanderbilt Cup Races here on The Old Motor. If you can add anything about the races, the Garage, or who the driver was, please send us a comment. The photo is courtesy of The Revs Institute. 
*Update* Thanks to reader Carl Schulz for finding a photo in the May 3, 1917, Motor Age, which confirms that this Harry Hartz in the first of several cars he built for himself. With this car he won his first race at a track in Culver City.