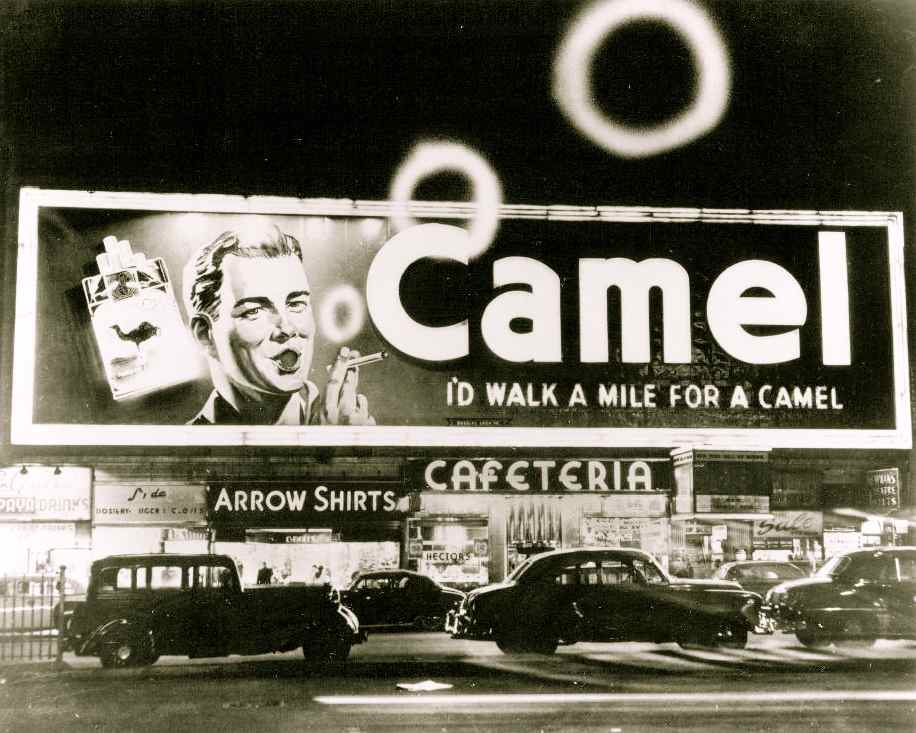 One of the most enduring images of Times Square (in New York) is the Camel Man. The Camel Man blew smoke rings around the clock for decades from a billboard mounted on the Claridge Hotel on Broadway between 43rd and 44th Streets. The billboard became a New York fixture for 25 years until the hotel, which served as a location for the film "Midnight Cowboy," was replaced by an office building in 1966.
The idea of a billboard that puffed out five-foot-wide smoke rings of steam was developed by American advertising executive Douglas Leigh. The smoke rings were chosen because outdoor lighting had been banned due to World War II's blackout measures.
Behind the hole was a steel chamber with a rubber backing that acted like a diaphragm. As steam filled the chamber, the rubber was pulled tight by a gear. When a second gear turned, the diaphragm relaxed, forcing the steam out of the chamber with a whooshing sound and sending it, like a smoke ring, wafting over Broadway.
The Camel Smoke Ring billboard featured the slogan "I'd Walk a Mile for a Camel" and a man who blew giant smoke rings every four-seconds. The image switched from soldiers to sailors to airmen. Until 1966, the billboard puffed away about 200 million smoke rings!
Above information courtesy of Sylvan Signs Newsletter. They have a video on their site showing a sign live in action.
The automobiles parked at the curb in this Times Square photo range from the mid thirties thru the early fifties.