They are the bane of motorists and a boon to merchants and municipalities. They are parking meters and, in the last eighty years, they have become a part of city life everywhere in the U.S. As the numbers of automobiles on the road grew in the first half of the last century, so did the problem of parking them all. In Oklahoma City in the late nineteen-twenties and early thirties, downtown merchants became increasingly concerned that the lack of turnover of cars parked at the curb made it difficult for customers to patronize their stores.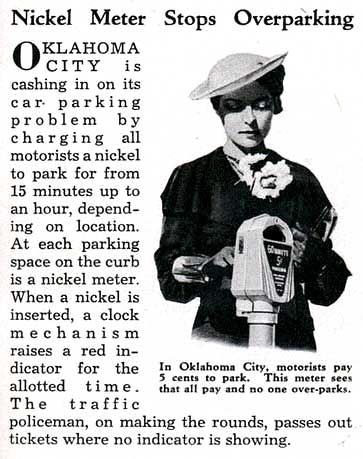 It all came to a head in 1932 when the Chamber of Commerce appointed newspaper editor Carlton Cole Magee chair of the Traffic Committee, charged with the specific task of solving the problem. He built a crude model of  a small, clockwork powered device to time the use of each space and filed a patent on December 21 of that year. Because he was not an engineer, he enlisted the aid of Oklahoma State University Professor H. G. Thuesen and 1927 OSU graduate Gerald A. Hale to refine the design. By late 1933, Magee, Thuesen, and Hale had a working prototype and began looking for a manufacturer.
They chose the MacNick Company of Tulsa, makers of mechanical timers used in the Oklahoma oil fields to detonate nitroglycerin. On July 16, 1935, 175 meters were installed and tested. The system was a resounding success and the city wasted no time placing more all over the downtown. Magee went on to incorporate the Dual Parking Meter Company ( later the Magee-Hale Park-O-Meter Company) to manufacture his meter and his penny pinching products quickly spread across the country. Top photo courtesy of the Benjamin Ames Collection. News article courtesy of parking network. Bottom photo courtesy of History by Zim.