Leon Serpollet and his brother Henri, early French steam car pioneers, worked together to perfect the flash tube boiler that introduced an efficient and new way produce steam. The exact date that their innovative system was first built appears to be unknown, but after further development it went on to make steam power in an automobile more practical because of its advanced design and quick steam output.
A steam tricycle was built in the late eighteen-eighties to test the system and it soon convinced others of the merit of the design. In 1898 the brothers met Frank Gardner, a wealthy American and the Gardener-Serpollet Company was soon formed. Shortly afterwards, one of the best-engineered early steam cars to be found entered the automotive marketplace.
The flash-tube or mono tube boiler as it is also known, turns a small quantity of water into steam quickly and it also has the ability to provide a continual supply to the engine when correctly designed. The new boiler also reduced the long period of time it took to get a conventional unit up to a useable pressure. Linking it to the advanced four cylinder engine Serpollet designed, resulted in a fast and powerful performer.
The Gardener-Serpollet success story soon resulted in Leon setting a new World Land Speed Record at 75.06 mph on April 13, 1902, driving the "Easter Egg" in Nice, France. He then turned his attention to producing the Gardner-Serpollet and the Serpollet Steam Tram until his death in 1907. Top photo from the Peter Helck collection courtesy of Racemaker Press.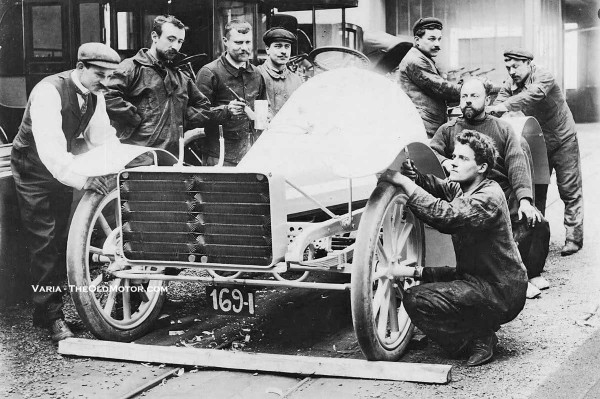 The photo above shows what appears to be a 1904 Serpollet racing car. It is unknown at this point if it did in fact ever take part in a competition event. If you can tell us anything about this unusual car wearing a large steam condensor mounted out front, please send us a comment. Photo via Isabelle Bracquemond courtesy of Varia.
The photo below shows a slightly later 1906 Gardner-Serpollet engine, which clearly illustrates the advanced enclosed design and the camshaft actuated poppet valves. More information, photos and illustrations can be found at the source of the photo, Grace's Guide. You can also view a 1903 Gardner-Serpollet in the collection at the Larz Anderson Museum.