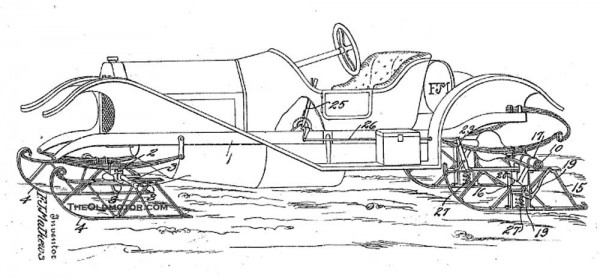 A snow storm is moving in on us here at The Old Motor, and that makes for an excellent time to share with you a number of interesting "Motor-Sleigh" patent drawings. Our favorite concept is the roadster just above, which Frank J. Mathews used as a basis for the drawings that he filed with his application. He received his patent on Sept. 21, 1915, for his attachments shown below that mounted to the axles of a car.
His device consisted of four runners that were installed at each corner and attached to the axles. For driving the vehicle he designed two hubs that replaced the standard rear wheels, each carried eight tubular spokes. Inside of every spoke was a spring-loaded and bell-shaped plunger that the inventor intended to use for driving the car. You can learn more about his patent here and see and read the complete application.
The following patent drawings were selected from a long list of many in the category, as they are interesting and some, in fact, are quite unique. The holder of the patent is listed under each drawing (which enlarges), and by clicking on the inventors name you can view the complete patent and in many cases more drawings that were filed with it.