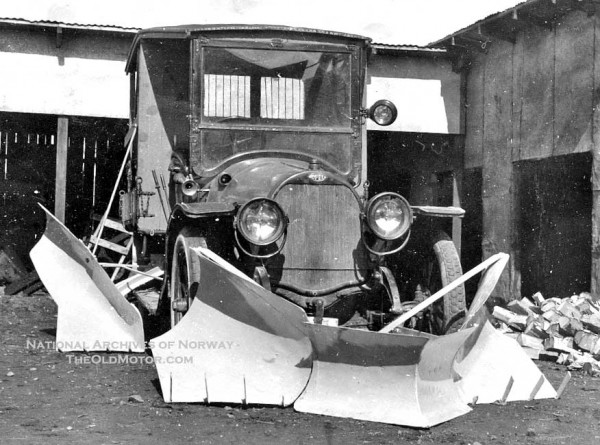 After having experienced a winter snowstorm and yesterday's "Motor-Sleighs" post, it seems like a logical time learn about the history of the snowplow and show some interesting early photos. Early on horse-drawn implements were used for dealing with winter snow: the snow roller was used to pack snow down instead of trying to remove it, and the horse was also used to pull single-blade plows and graders. The first snowplow built for use in the United States with a motor vehicle, appears to have been built in 1913 by Good Roads Machinery in Kennett Square, PA.
According to the National Archives of Norway, who supplied today's photos, in 1923, Hans and Even Overaasen constructed their first snowplow for use with an automobile in that country. After this start, the company continued on to build snow-clearing equipment for roads, railways and airports and remains in business today as Overaasen Snow Removal Systems.  
Perhaps the most unique piece of equipment seen here is in the two middle photos, which show an odd-looking enclosed truck. Behind it is a pair of wing plows atop an adjustable framework that appears to have been towed by the truck. There is a possibility that it may have been an experimental unit used for developing a system to push back the tops of snow banks on either side of the road.
With the limited amount of horsepower and traction available with an automobile, the brothers apparently used low and lightweight plows with wings to assist in pushing snow off to the sides of the road. At the top of the post is an Opel that has been made into a truck, and below is a Cadillac with the photo captioned "Experimenting with a snow plow on a car, Gausdal, January 12, 1926."