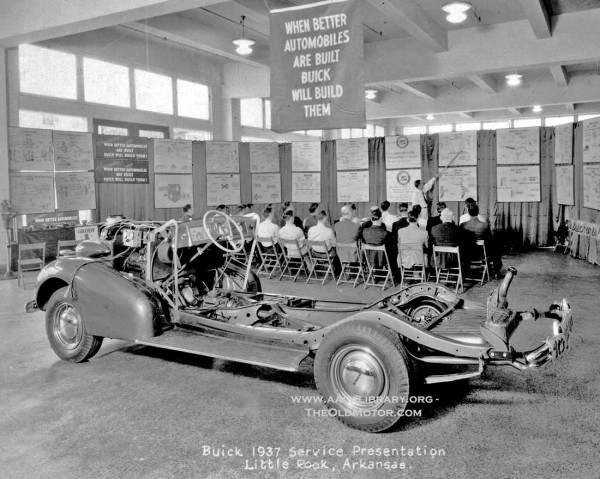 Any technician working at a dealership today will tell you that it is vitally important to stay current with all the technology on new cars in order to maintain and repair them properly. The modern mechanic has an enormous amount of information at his finger tips in online databases and on DVD to help him diagnose and fix a problem in addition to any classes he might attend. In the old days, he counted on experience, his trusty factory service manual and events like these to kept things rolling.
The decade of the thirties saw some great forward leaps in engineering and design. GM's Knee-Action Dubonnet-type independent front suspension had only been around since 1934 and required more attention than the old style solid front axle. And while Buick's fully automatic Dynaflow transmission was still ten years away, their Automatic Safety-Transmission would debut in late 1937. Both were harbingers of increasingly complicated components that service men would have to deal with in subsequent years.
The photos are courtesy of the AACA Library & Research Center. Take a minute to learn about all of the services they offer. There are also many more pages of repair shops and dealerships for you to enjoy here on The Old Motor.