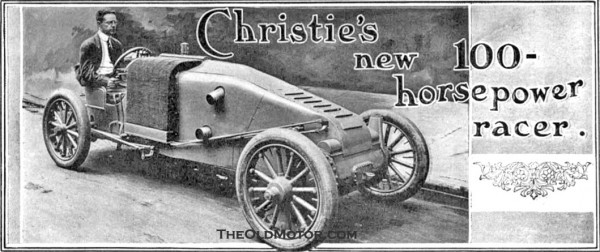 The recent post that covered Barney Oldfield's Christie racing car, struck a cord with our readers, so it seems that this follow up coverage on the complete construction details of the car is in order. Thanks to Lee Stohr for passing along the earlier photos posted here of the car, and for leading us to this article in the August 5, 1909, the Automobile magazine. The details of this extraordinary car can be found below.
The engine in this car is worthy of a closer look. It was a shaft and bevel gear driven SOHC V-four with a 7.5-inch bore x 7-inch stroke, which yielded a whopping 1237 CI. It featured 30.5-inch long connecting rods, combined with the inclined top end of the engine resulted in very good weight distribution.
The forged steel crankshaft with two throws was only nineteen-inches long. It was supported by two ball-bearings that were almost nine-inches in diameter and used 1.375-inch diameter balls. The main bearing journals were 3.5-inch in diameter, and the crankpins were 3-inch in diameter and 4.5-inches long. In the center of the shaft, the web between the two crankpins was an eleven-inch diameter by one-inch wide spur gear that drove the upper shaft.
Another interesting detail was the use of manganese bronze castings apparently for the entire front axle, crankcase and the front part of the frame. Behind this were channel-shaped steel side members that supported the springs and the rear of the car. The rear axle was constructed of  2.25-inch diameter steel tubing, with 1.75-inch diameter axles shrunk into each end and then pinned. You can take a look back at the other earlier photos and drawings here.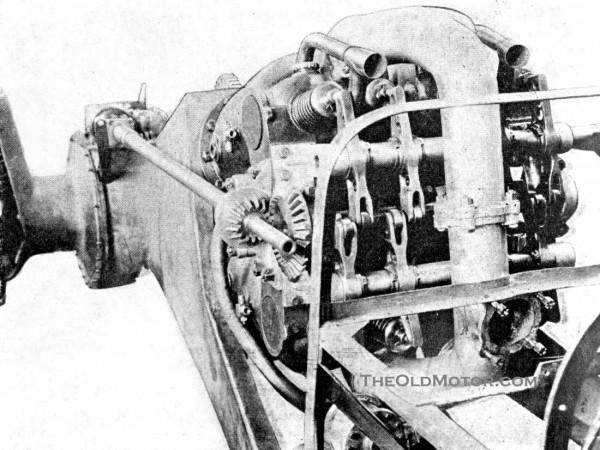 Just below is another short article that followed the piece in the Automobile magazine. It describes just how well Christie's "space-eater" preformed at the Grosse Point, Michigan track, shortly after being finished. There it broke track records and traveled at a speed "over 100 miles per hour".