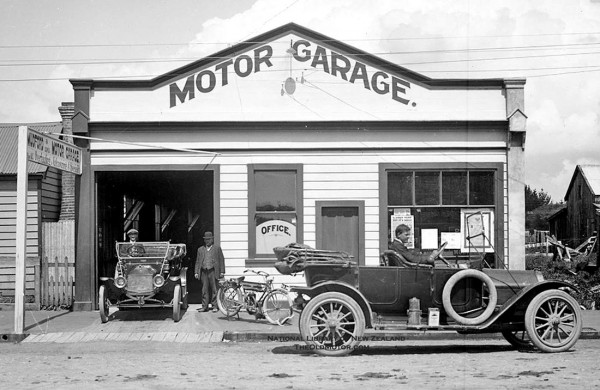 The sign on Mudford & Sons Motor Garage, tells us a bit about the enterprise and reads as follows: "Overhauling & Vulcanizing A Specialty". The garage was located in Stratford, New Zealand, a fairly small town on the western side of North Island.
The circa 1914 photograph was taken by James McAllister and shows the following vehicles left to right: a circa 1914 Model "T" Ford, what appears to be a Triumph motorcycle and a circa 1912 touring car by an unknown maker that appears to be American-made. View the two enlargements below to see more details, and let us know if you can date the Ford and identify the others. You can learn about tire vulcanizing and repairing in the period here.
The Model "T" Ford truck below was used by Thomas, Olliver & Thomas of Kaponga, which is also located on the western side on North Island and just southwest of Stratford. This photograph was also taken by James McAllister and shows a circa 1914 Model "T" Ford converted to a truck with a double chain-drive conversion. Note the ornate pinstriping and signage on the truck body. Photos courtesy of the National Library of New Zealand, via Isabelle Bracquemond.