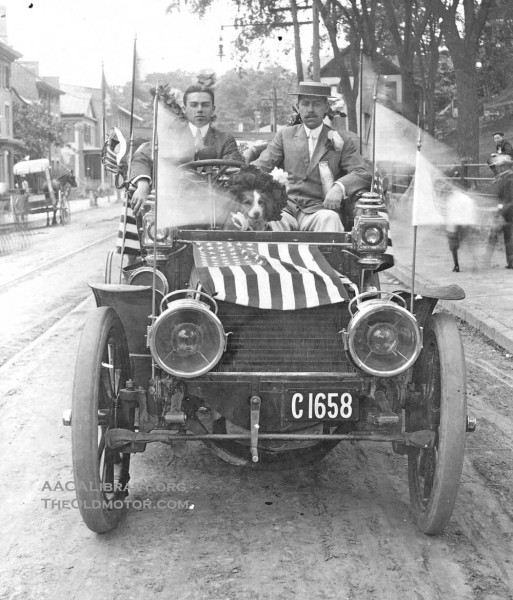 *Updated* This unique car is a circa 1904 Panhard et Levassor, a high-quality French car that was produced in Paris from 1890 until 1967, when the firm built its last passenger car. Thanks to: Ariejan Bos, Mark Walker and Coburn Benson who were all able to identify it, you can read their comments below. You can also view another interesting early Panhard here.
Today's mystery car photo from the AACA Library & Research Center shows an impressive early automobile that appears to be from the pre-1906 period. The only clues that can be found in the photo are the Connecticut license plate and the flags, which would lead one to believe that the date the photo was taken might have been the Forth of July. Check out the attractive pair of magnifying-lens headlamps and do not miss checking out the dog's hat.
The two enlargements above will help you with your quest to identify this vehicle. The maker of this car has been determined, but we are unsure of the exact year in which it was manufactured. We are going to hold off on posting comments on this post until Friday to give everyone a chance to work on it. Please let us now what you may find out about this machine and its date. Photo courtesy of the AACA Library & Research Center.