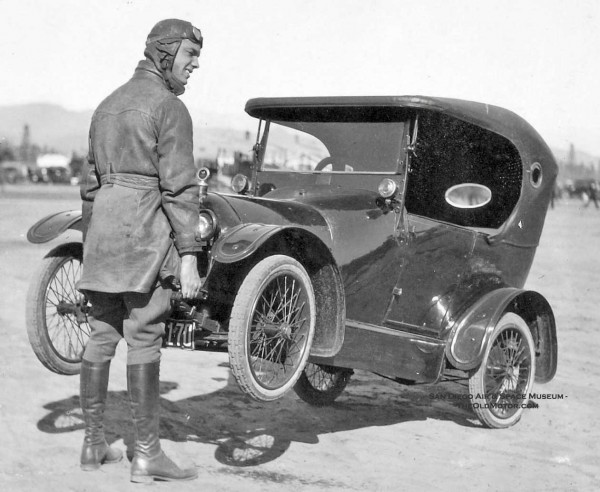 The Bebe Peugeot was the perfect car to clown around with and Frank Clarke, a stunt flyer in Hollywood during the twenties and thirties, can be seen doing just that here in a pair of photos, taken in February of 1921. But putting all fun aside, it was actually a car designed for a purpose by no less than Ettore Bugatti. It was introduced by Peugeot during 1912 as their entry into the cycle car craze, which was sweeping the automobile community on both sides of the Atlantic Ocean at the time.
The Bebe as it has been nicknamed was built between the years of 1913 and 1916 and was aimed at economy motoring and lower road use taxes. It featured an 850cc, ten HP T-head engine, with a 2-inch x 3.5-inch bore and stroke. The engine block and crankcase, which used a removable lower oil pan was cast in one piece, it was initially backed-up with a two speed transmission that was later replaced by a three speed unit. Top speed of the little car was limited to 37 MPH. Some three thousand were made during the production run.
The pint-sized car was raced in cycle car events that were popular at the time, and one was even reported to have won its class at the famed French Mont Ventoux Hill Climb. Full details can be found in The Automobile, October 31, 1912 issue above. Photos courtesy of the San Diego Museum of Air & Space and the French National Museum.