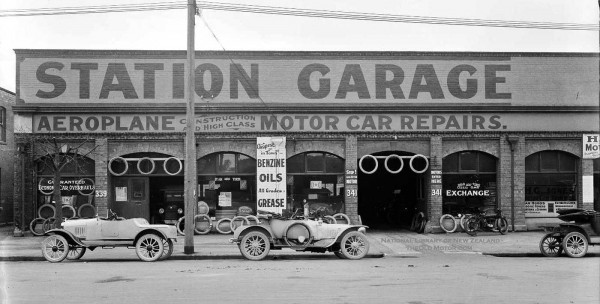 Signage listing "Aeroplane Construction and High Class Motor Cars Repairs," is the kind of statement that does tend to get your attention. The Station Garage, was located in Christchurch, New Zealand, and if the shop was capable of building airplanes, as they stated, there was a good chance their repair work was also above average.
There are some interesting automobiles parked out in front of the establishment: on the far left is a Model "T" Ford wearing a very sporty roadster body that was likely to have been built there on the island by a coachbuilder, in the center is a circa 1911 Delage Roadster, and on the right, a teens' Harley-Davidson and the back of a Model "T" Roadster can be seen.
Inside the garage, two more cars are visible: On the left a Buick can be viewed through the doorway behind the Model "T", and on the right in the middle of the photo is a mid-teens' American Briscoe. This unusual-looking auto was built in Jackson, Michigan, and is easily identifiable by its cyclops headlamp. A number of them were exported around the world.
The signage on the windows also promoted services and goods that were offered: "Guaranteed Economy Overhauls", "Star Tires", "Used Car Exchange", and H.G. Jones a "Motor Car Trimmer" offered his services. If you can tell us more about the facility, or identify the unknown roadster, please send us a comment. Photo courtesy of the National Library of New Zealand.