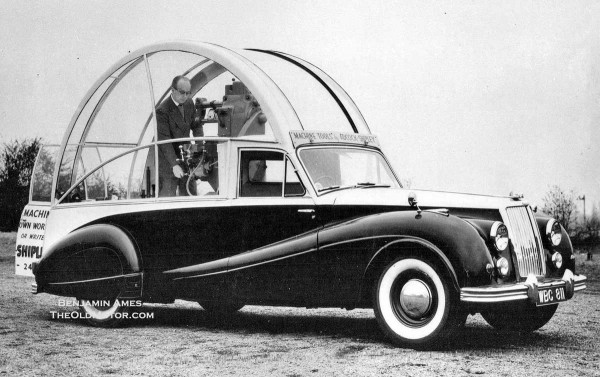 *Updated*: Thanks to reader Michael Rhodes who has informed us that this unique car still exists in pickup form minus the dome. Andy Blatchford adds: The Sapphire Utility is owned by the Armstrong Siddeley Owner's Club Ltd. and is currently undergoing restoration with the Rolls-Royce Heritage Trust, Coventry Branch at its workshops in Derby.
Adcock & Shipley Limited was a machine tool builder based in Leicester, England. The enterprise was formed in 1914, as a partnership of George Adcock and Howard Shipley, and turned into a long and successful venture. In this press photo dated January 27, 1960, can be seen a British Armstrong Siddeley Sapphire, which was cleverly turned into a rolling showcase for one of the firms horizontal milling machines.
With this unique vehicle, the salesman could drive to a prospect's shop or factory, and conveniently demonstrate the machine tool at any time of the year, and in any type of weather. The sales car was equipped with a power cord that could be used to quickly connect to the client's electrical service for the demonstration. Photo courtesy of the Benjamin Ames Collection.