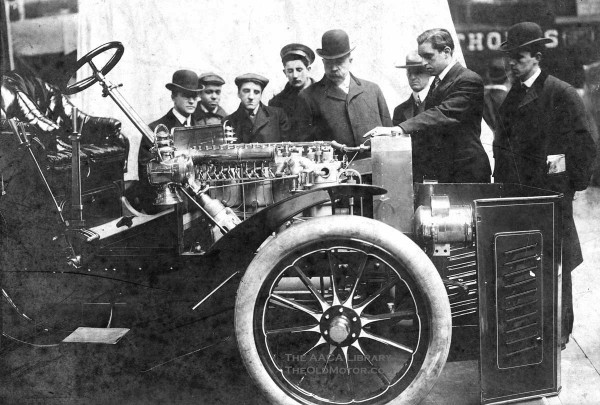 *Updated* Thanks to all who participated in and sent in their answers about who manufactured this car. The following got it right by identifying it as a 1904 to 1905 Matheson and you can read their comments below: David Coco, Chris Paulsen, Ariejan Bos, David Mazza, Tony Costa, Ian Hayhurst and Luke Chennel. You can see many more pages of coverage on the Matheson including another one here.
For today's mystery, even though we do not have a photo of the complete car to share with you, the image is crisp and clear enough that with a bit of work it can be identified. The photo was taken at an early auto show here in the United States of a domestic make of car. Clearly shown is the very advanced engine that helped this automaker become quite well known on both the road and track.
Once again we are going to give you some time to work on this mystery and will post the replies next Wednesday, and at the same time we will give you a link to more photos and information you will enjoy. There are enough clues in the photo based on the automobile's appearance and mechanical details to help you figure this mystery out. If you have a vehicle you need to do some research work on, contact the AACA Library & Research Center who shared this interesting photo with us.