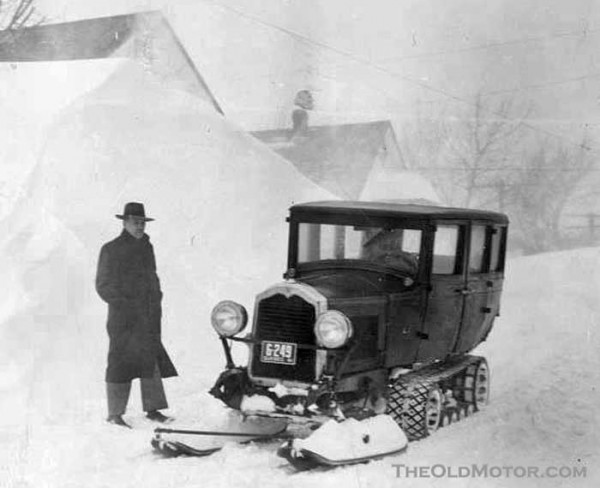 Today is March 2, and Old Man Winter shows no signs of letting up in the Northeast and more snow is on the way. There is one ray of sunshine on the horizon though as the Amelia Island Concours d' Elegance is next weekend in Florida. If you are planning to attend, featured this year will be the following: the Underslung, the McLaren, Chrysler and Packard Concept Cars and the coachwork of Corrozzeria Zagato on a number of fine cars. So enjoy it if you do go, and if not stay tuned for our usual coverage of the event in photographs that will follow.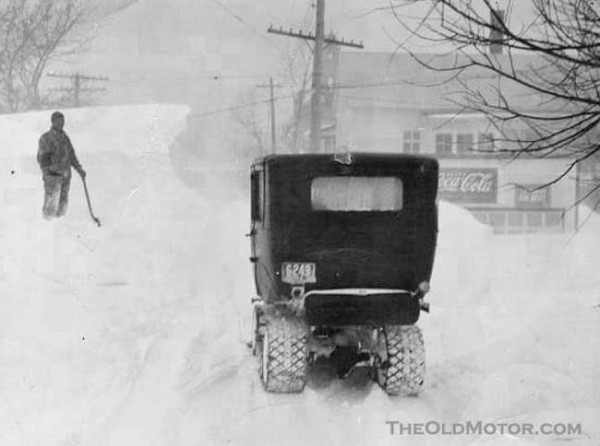 *Update* Thanks to reader TinIndian, it is now known that this snowmobile or the conversion kit was built by J.A. Landry, who apparently was from Ville de Mont-Joli, Canada. We have included one of his earlier patent drawings below. You can learn more by following the links in the comments below.
We will not be at Amelia unfortunately for the first time in years, which brings us back to staying home in cold and snowy Vermont, and investigating yet another early conversion of a car into a snowmobile. Earlier this winter we covered a number of Ford-based units by well known companies, but here we have one by an unknown maker. The outfit shown here operates under the same principals as the others, even though it is based on a circa 1926 Buick Sedan.
It features very wide wheels that appear to be specially constructed with indentations on the outside diameter used for driving the track. In between them are four small bogey wheels and the whole assembly drives some sort of rubber belting or mesh-like track. The date and location are not known; so there is not much to go on here, but if you can help to identity this creation, please send us a comment. The photos are courtesy of 4door.