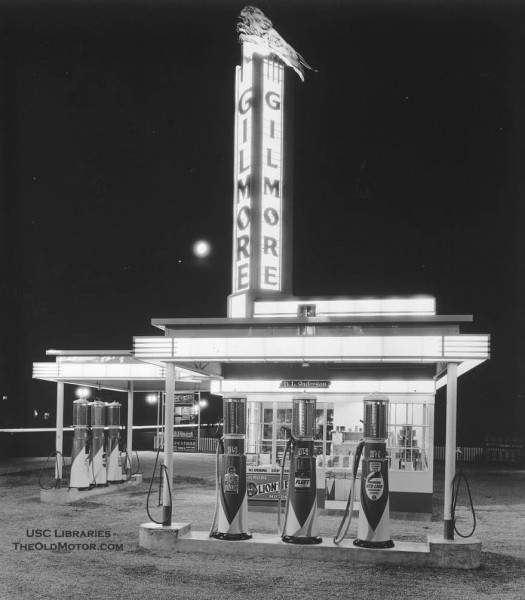 V.L. Anderson's Southern California Station in a nighttime publicity photo
Born in 1850 near Millersburg, Illinois, Arthur Fremont Gilmore, was a dairyman turned oil and gas merchant after he struck oil in California while drilling for water for his livestock. Starting in 1918 his son, Earl Bell Gilmore, took over the family business and presided over it while it became the biggest independent oil company on the West Coast. Our photos date from that period of explosive growth.
E.B.'s flair for promotion is well known. He sponsored auto and air racers, land and water speed record attempts, a radio show and built the Gilmore Stadium in West Hollywood. Gilmore gas stations were among the cleanest and most modern. Their bright cream and red colors made them stand out from the rest and the Gilmore Lion logo became well known nationally. You can find more interesting Gilmore Oil Company photos on The Old Motor. Photos courtesy of the California Historical Society Collection at USC Libraries.