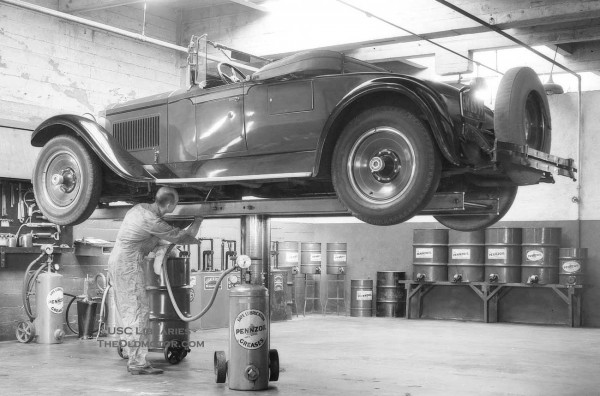 This series of photos was taken by the Dick Whittington Studio for the Pennzoil Oil Company. The images were taken for the company to help in promoting its engine oils, chassis grease, and equipment in 1931. A circa 1928 Packard Roadster is seen above up on a hydraulic lift being greased, at the same time the engine oil is being drained into a fifty-five gallon drum on wheels. The location was the Biltmore Garage in the Los Angeles. 

The operator in the above left photo, is showing the Pennzoil "Master Lubrication Guide" to the Packard owner to assure him that his car will be correctly lubricated. The center photo shows all of the equipment necessary, and in the right photo the Packard gets a fresh supply of engine oil. Just below is a Pennzoil sign and a rack carrying glass oil bottles topped with metal pouring spouts, it demonstrated the company's setup on the gas pump island at the Biltmore. This time another Packard on the right, a 1929 is used for a backdrop.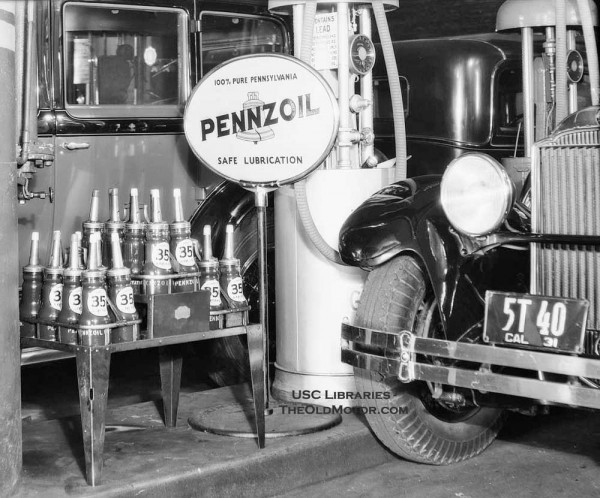 Pennzoil describes the early history and the start of the company as follows: "It was 1889. The world's first billion-barrel oil field was discovered in Bradford, Pennsylvania, and South Penn was born. One of John D. Rockefeller's original companies under Standard Oil, South Penn developed Bradford field and by 1908, around the time Henry Ford's Model T hit the road, began producing their flagship line of motor oils. They named the oils "Penn's Oil" in 1913 and soon thereafter renamed them Pennzoil, with the distinctive image of the Liberty Bell to reinforce their Pennsylvania heritage".