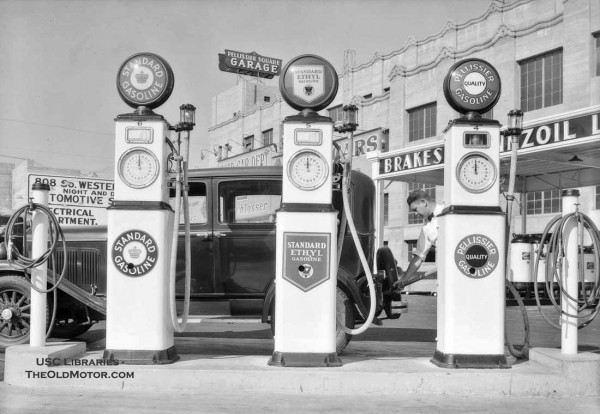 The Pellissier Square Garage located at 828 South Western Avenue in Los Angeles was more that just a common gas station and repair shop. It offered the kind of service that is rare, if not unheard of today, but was not uncommon in big cities in 1931. A customer could also keep their car in the large parking garage behind the station.
Employees of the garage provided a wide array of services for which a driver would receive a monthly bill. Basic maintenance was performed. Oil was changed and, in a day when chassis lubrication was required every thousand miles or so, it was also attended to. If you had a problem on the road, you could be hauled back in by the Lincoln tow-car seen on the right below.
Mechanical brakes needed frequent adjustment that was attended to on the Johns-Manville Brake-O-Meter seen in the left hand bay in the center photo above. A car's cosmetic needs were not neglected, either. Washing, polishing and waxing were also available as was cleaning and vacuuming the interior.
Lastly, the tank could be filled right on the premises so the car would be ready to go at any time of the day or night the customer might need it. You can find many more photos of old time service stations here on The Old Motor. Photos by the Dick Whittington Studio courtesy of USC Libraries.