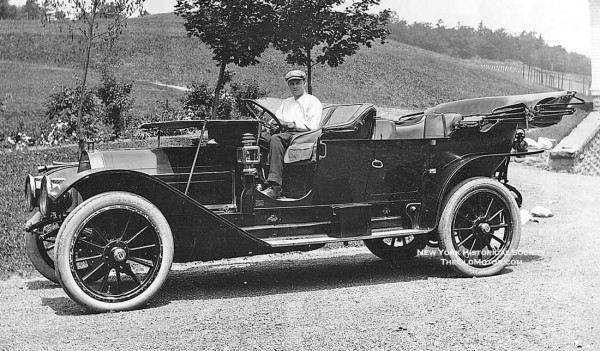 George N. Pierce formed his own metalworking company in 1878 and began by manufacturing birdcages, iceboxes, and bathtubs before starting to produce automobiles at the turn of the century. The first production car built in 1901, a small Pierce–Motorette, used a single-cylinder De Dion-Bouton engine. In 1904 after several years of production of the first small car, a larger and more modern Pierce Great-Arrow featuring a front-mounted four-cylinder engine was introduced.
Perry Pierce won the first Glidden Tour held during 1905 in one of the new four-cylinder cars. Following that fine showing, the company's cars then went on to win the event for the next four years in a row, putting them in the enviable position of being one of the leading American automakers.
The first Great-Arrow six-cylinder came along in 1907; a 40-HP six was added in 1908, it was then followed in 1909 with a name change to Pierce-Arrow, and a lineup of three sixes that included 38, 48 and 60-HP models. Featured in the top photo is a circa 1909 to 1911 48 or 60-HP model. The image is courtesy of the New-York Historical Society.
The Automobile, September 2, 1909 issue, contains a complete accounting of the 1910 models titled: Six Cylinder Form and Three Horsepowers. Shown above from the article are three views of the big Six-Sixty Six engine, Pierce rated it at 66-HP and it is listed as having a 5.25-inch X 5.50-inch bore and stroke. This "practically redesigned" big six now featured cylinders cast in pairs. Take note of the pump-supplied oil tank at the top of the engine that stored the lubricant for gravity-feed to the lower end bearings.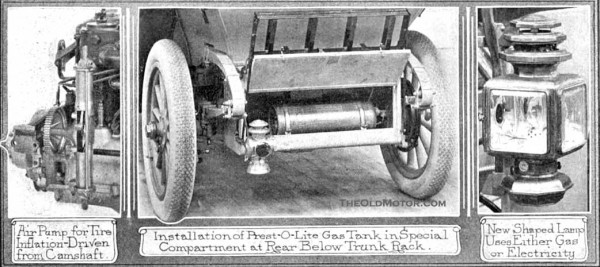 Above L to R: The engine-driven air pump for inflating tires, the rear-mounted acetylene tank for the headlamps and the cowl mounted sidelamps. Below L to R: The four-speed transmission, the three six cylinder models offered in 1910 and the braking equipment. Many more Pierce-Arrow photos and information about the car can be found here on The Old Motor.