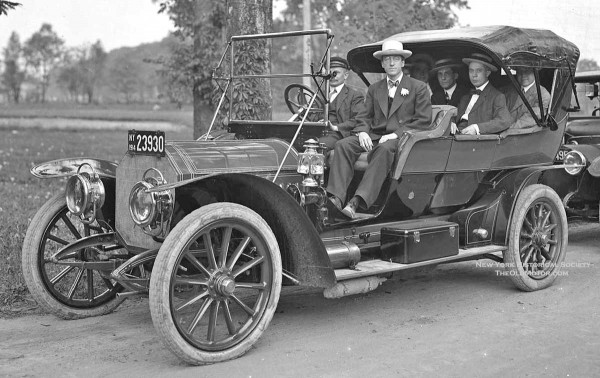 *Update* At the bottom of the post.
This attractive touring car is filled real estate men and newspaper reporters who were guests that day of Joseph P. Day. The photo was taken at the Woodmanston Inn, which was located on Pelham Parkway in the interesting and historic Morris Park area of the Bronx, one of five boroughs of New York City. Day was a real estate broker and a very successful property auctioneer in the City between the 1890s and the 1940s.
After learning all of the above about Day, the mystery car that we believe to have identified, would fit right in as being used by a man of his stature. The photo is dated as having been taken on May 27, 1914, which would lead us to believe that the car might have been as much as a couple of years old or possibly more. Your job is to positively identify and date it, and if you can send us a link or some documentation about it. We will post all correct responses on Friday.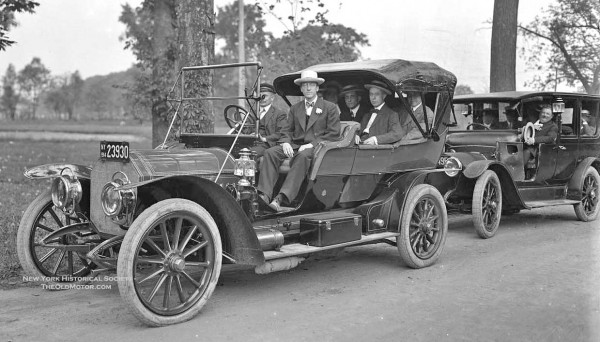 *Update*:  After seeing this photo, a record number of comments from readers have come in about this car. It is a circa 1908 to 1910 45 HP Mercedes wearing coach-work equipped with a cape top. It features either Solarclipse or French Bresnard magnifying-lens headlamps and the coach-builder is likely to be by either J.M. Quinby & Co. from nearby Newark, New Jersey or Fred R. Wood & Son from New York City.
Thanks to all who participated and to the following who correcly identified it as a Mercedes: Shenton King, Christer Campler, Steve Evans, Karl Darby, Tony Costa, Frank Barrett, John Saylor and Ariejan Bos who included the most information about the car which you can read in his comment below.