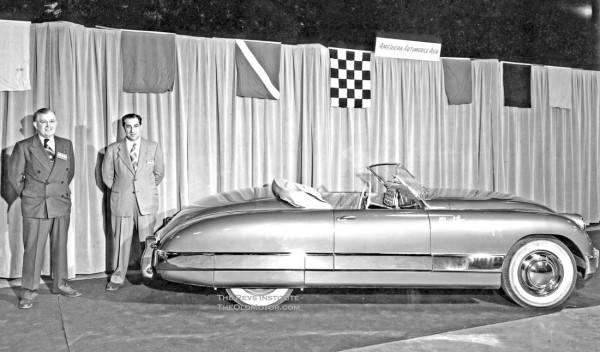 An enthusiastic response to his prototype Kurtis Sports Car from the press and public at the 1949 Indianapolis 500 helped convince Frank Kurtis to produce it in limited numbers. While he had built a number of attractive one-off customs throughout his career, he had never manufactured a road car in any quantity before.
Early plans called for using a rumored Studebaker V-8, but when that engine failed to materialize, Kurtis struck a deal with Benson Ford for engines and running gear including entire 1949 Ford independent front suspension assemblies. The car was offered in various stages of completion for between $1,495 for a bare bones kit to $3,495 for a complete car.

But after a devalued British Pound dropped the cost of a new Jaguar XK-120 to less that $3,000, many potential customers opted for those and other imports, prompting Kurtis to sell the production rights and tooling to Los Angeles used car dealer Earl "Madman" Muntz in early 1950. He manufactured a stretched version of the car as the Muntz Jet until 1954.
Our photo courtesy of The Revs Institute shows one of the Kurtis cars in an American Automobile Association booth at an unknown event with some lettering on the front fender that cannot be made out. We invite anyone who might know what it says, recognizes the location or the two fellows in the photo to send in a comment. See the 1949 Kurtis Motor Trend cover car, which has survived.