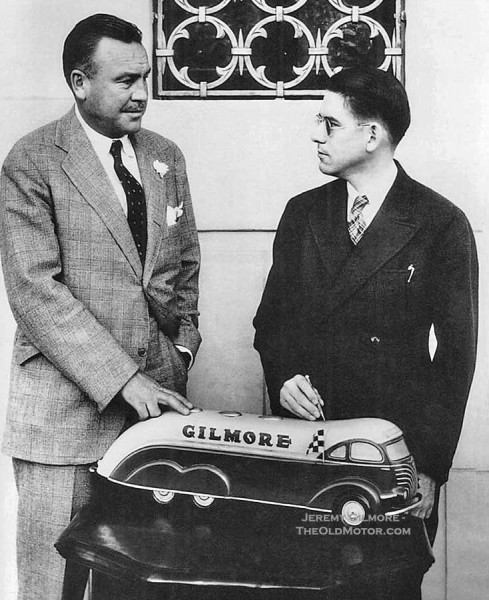 Thanks to Jeremy Gilmore, we have additional photos and information about the streamlined White gasoline tanker that we featured in a recent post. Seen on the left above with a styling model of the radical truck and designer W. E. Miller is company Vice President Clarence Beesemyer. Jeremy tells us that W.G. Julier, the transportation manager for Gilmore, also had input in its design and all other trucks in the fleet at the time.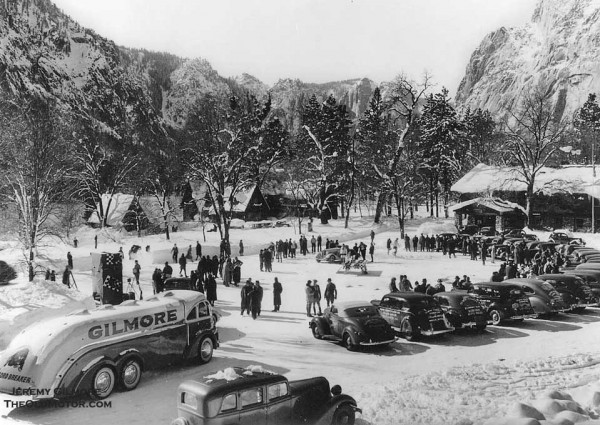 Besides promoting speed events, Gilmore also co-sponsored fuel economy runs with the American Automobile Association between 1936 and 1941 for which they were the official gasoline supplier. The above photo shows the spotless streamliner at the scene of the 1937 Gilmore-Yosemite Run trophy presentation. A rendering of the finished design and a close up of the nicely detailed model can be seen below on the left and right.
In a comment on our first post, Shawn McGill wondered about the rotund Albert Bach, driver of the big White and longtime employee of the Gilmore Oil Company. The short biography of A.F. Bach in the center photo above provides some insight into the man, his career and how things were done in those days. It originally appeared in the Gilmore Lions magazine, their in-house publication.
The photo below shows Bach on the job at the 1936 Indianapolis 500 literally flying the flag for Gilmore, a responsibility that he seems to be enjoying thoroughly . You can find out more about the colorful history of the Gilmore Oil Company on The Old Motor.