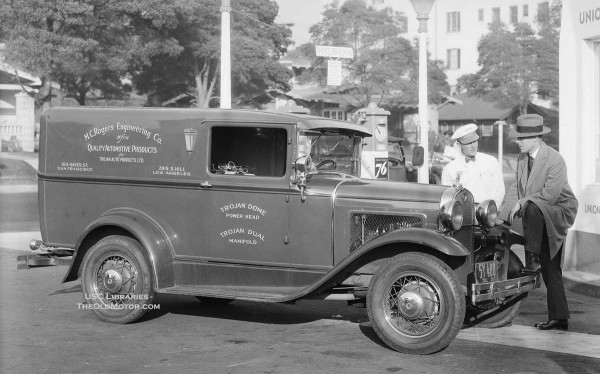 Southern California has been a hotbed of racing and hot-rodding since the first decade of the last century. Many lessons were learned in hopping up the Model "T" Ford in the area, so it was only natural that the speed merchants would next turn to the Model "A" to give it more speed and power.
M.C. Rogers Engineering Co. of Los Angeles and San Francisco manufactured at least two products for the Ford: the Trojan Dome Power Head, which was probably a high compression aluminum unit, and the Trojan Dual Manifold, both of which can be seen in the lower photo. The manifold appears to be aluminum, is finned on top and is equipped with two up-draft carburetors.
The Roger's Model "A" Ford Sedan Delivery is wearing a 1931 license plate, has been dressed up a bit and might be wearing a non-standard body. Note the smooth upper side  panels and the faux coach-light just behind the door. Other changes are a glass-paneled hood, smaller diameter wheels and a deluxe spotlight that may have been used for nighttime demonstrations of the head and manifold. Tell us what you might know about Rogers or the truck's body. Dick Whittington Studio photo courtesy of USC Libraries.